Y
Click here for printer-friendly recipe!


My twist on the Torta! Grilled chicken, refried beans, cotija cheese, grilled red onion and avocado relish, piled high inside soft, grilled Telera.
UPDATE: Watch the TORTA SLIDERS – MINI GRILLED CHICKEN TORTAS Video.
What the heck is Telera?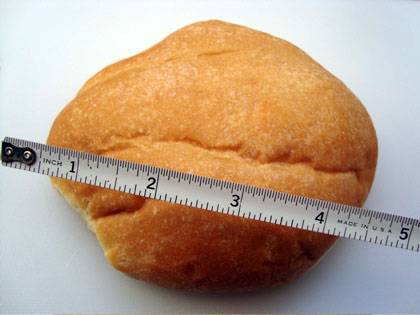 Telera is soft, round bread used to make tortas, the traditional Mexican sandwich. Also commonly used is the Bolillo, a torpedo-shaped French roll with a thick and crunchy crust. As you can see, Telera can be quite large. About four inches across and two inches high. One torta made with Telera can feed 2 people.
Ingredients for EACH Torta:


chicken (1/2 breast)
onion (2 slices)
refried beans (4 tbsp)
cotija cheese (1 tbsp)
avocado relish (1/2 cup)
Ingredients for Avocado Relish:


1/2 cup diced tomato
1/2 cup diced avocado
1/4 cup diced onion
1/4 cup chopped cilantro
1 tbsp chopped green onion
1 tbsp chopped serrano pepper
fresh lime juice
salt & pepper
Directions:


Prepare the avocado relish. Seed tomato. (I know, that's where all the good lycopene is… but it makes for soggy tortas.) Seed serrano pepper. Combine all diced ingredients in a bowl. Add a squeeze of lime and a little salt and pepper. Stir together and refrigerate until ready to use. Makes about 1 cup, enough for two tortas.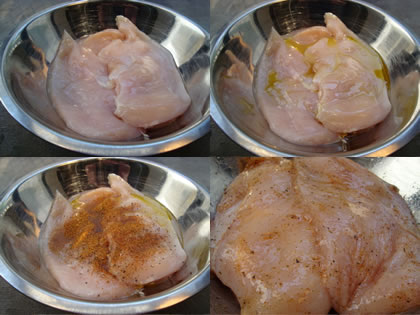 Prepare the chicken. (Because nothing is more attractive than a bowl of raw chicken.) Butterfly breasts for faster grilling time. Season chicken. A little olive oil, salt, pepper and cajun seasoning is nice for tortas.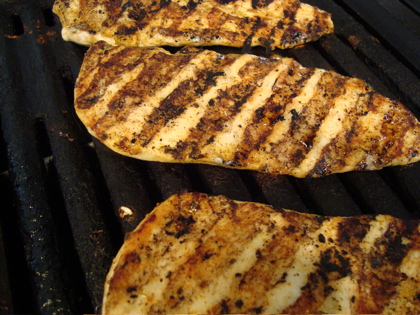 Grill chicken.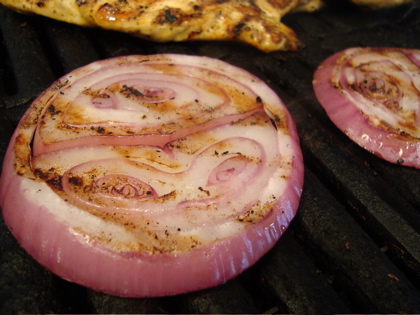 Grill onion slices. You'll need about two slices per torta. Of course you can use a grill pan or simply saute the chicken and onions.

Prepare the Telera. Place Telera cut-side-down on grill to toast. You can also place under broiler if you are not grilling. While bread is toasting, heat beans (on the stove or in the microwave).
Assemble the TORTA!


1) Grilled Telera.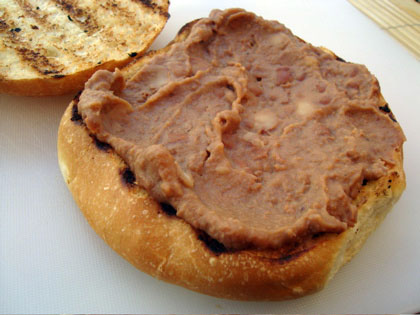 2) Spread of refried beans.

3) Crumble of cotija cheese.

4) Layer of chicken slices.

5) Pile of onions.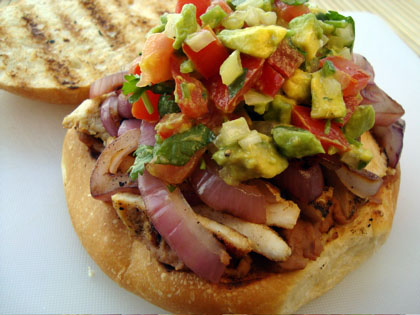 6) Avocado relish.

7) Put the lid on and slice with a serrated knife. (Toothpicks can attempt to keep this sucker organized and beautiful while you cut it.)

Trust me. Get the napkins! A few tortilla chips on the side are nice for getting all the avocado that falls out. And it will.