Y
Do you know about the magic hour?
In photo and videoland it is a period before and after sunrise and sunset when the lighting is ideal for photography. The lighting is so good it's magical.
That's how I feel about these last weeks of summer.
Like we are in their magic hour.
The nights are still warm.
The pool still feels like a bath tub.
I haven't needed to put on a pair of socks in months.
And I'm proud to admit I haven't even thought of using the oven.
Certainly, a time so magical deserves to be celebrated.
Fortunately, Banh Mi know how to party!
OK. That was bad…
But decidedly outstanding is the California Avocado and Cucumber Relish (recipe follows) that tops the thick stack of spicy grilled chicken crammed into a crispy, grilled baguette slathered in Sriracha mayonnaise, otherwise known as (my version) of the banh mi.
Your friends will think you are amazing for getting everyone together one last time before they have to put their white shoes away.
Especially if you serve The Perfect Shrimp too.
So fire up the grill.
And celebrate the magic hour of summertime!
Ingredients for Avocado Cucumber Relish:
1 ripe California Avocado, peeled, seeded and diced
1 cucumber, peeled, seeded and diced
1 serrano chili pepper, seeded and diced
2 TBSP chopped cilantro
2 TBSP chopped green onion
2 TBSP chopped red bell pepper
2 TBSP chopped daikon or red radish
1 TBSP rice vinegar
1 teaspoon soy sauce
Ingredients for Spice Rubbed Chicken:
2 TBSP olive oil
2 TBSP chili powder
1 TBSP brown sugar
1 TBSP cumin
1 teaspoon garlic powder
1 teaspoon finely minced ginger
2 teaspoons soy sauce
2 teaspoons rice vinegar
What you'll need for the Banh Mi:
Avocado Cucumber Relish
Spice Rubbed Grilled Chicken, sliced
Sriracha mayonnaise (real mayonnaise flavored to taste with Sriracha hot sauce)
fresh sweet baguette, grilled
NOTES:
Serves 4-6. Makes about 2 cups Avocado Cucumber Relish and about 1/2 cup Spice Rub (paste – seasons 4-6 chicken breasts).
Directions for Grilled Chicken Banh Mi with Avocado Cucumber Relish:
1) Prepare the Avocado Cucumber Relish and refrigerate until ready to use.
2) Prepare the Spice Rub for chicken. Allow to marinate the chicken for at least 30 minutes.
3) Prepare the Sriracha mayonnaise with real mayonnaise flavored to taste with Sriracha Hot Sauce.
4) Cook chicken on grill preheated to high. About 20 minutes.
5) Slice baguette and toast on grill as well.
6) Prepare the Banh Mi by coating toasted baguette with Sriracha mayonnaise, pile with sliced, grilled chicken and top with Avocado Cucumber Relish.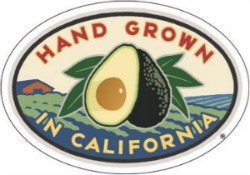 The Average Betty Test Kitchen developed this recipe on behalf of the California Avocado Commission.
Nutrient dense California Avocados provide nearly 20 essential nutrients, including fiber, potassium, Vitamin E, B-vitamins and folic acid and enable the body to absorb more fat-soluble nutrients.
For more great recipes using California Avocados, check out the California Avocado Commission Commission Website.

Don't miss a video… SUBSCRIBE TO MY CHANNEL ON YOUTUBE!