Y
WATCH THE VIDEO!
Who doesn't wish they had super powers?
The ability to fly would sure come in handy here in Los Angeles around rush hour.
Since I'm not more powerful than a locomotive and completely unable to leap tall buildings in a single bound…
I'll have to settle for cooking like a superhero.
And once you serve up this Easy Tempura and Dipping Sauce, your family and friends just might believe you can fly!
Celebrate #GeekWeek and tune in to YouTube.com/GeekWeek for a daily rundown of highlights.

Don't miss a video… SUBSCRIBE TO MY CHANNEL ON YOUTUBE!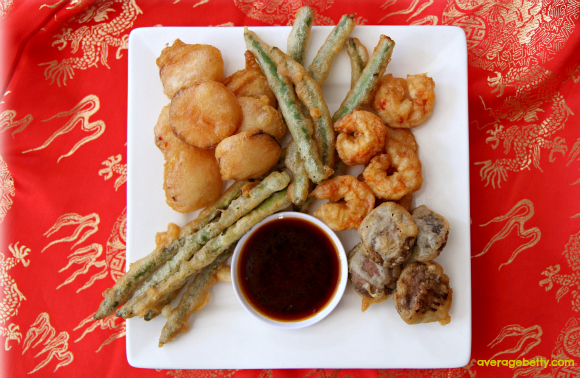 Ingredients for Super Easy Tempura and Dipping Sauce:
Tempura Batter:
1 1/2 cups all-purpose flour
2 TBSP corn starch
1 teaspoon salt
1/2 teaspoon sugar
2 cups ice cold sparkling water
Tempura Dipping Sauce:
2 TBSP Sambal Oelek
1 TBSP honey
1 teaspoon toasted sesame oil
1/2 cup rice vinegar
1/2 sup soy sauce
Suggested Items for Tempura:
mushrooms
green beans
asparagus
yams
shrimp
onion

NOTES: Makes about 2 cups batter and 1 cup dipping sauce. Use the Dipping Sauce for all of your favorite Dim Sum. Dipping Sauce Recipe adapted from Ming Tsai's Dim Sum Dipper from his award-winning cookbook, Ming's Master Recipes. I like to store any leftover Dipping Sauce in a jar, so I can shake to combine. As with all fried foods, Tempura tastes best when it's hot and fresh.
Directions for Easy Tempura and Dipping Sauce:

MAKE THE DIPPING SAUCE:
1) In a bowl combine all ingredients and whisk throughly. Set aside.
PREPARE THE TEMPURA BATTER:
1) In a bowl combine flour, cornstarch, salt and sugar.
2) Add ice cold sparkling water a little at a time, stirring gently with a chopstick. You may not need to use all the water. If the batter is lumpy, it's OK; keep chilled until ready to coat vegetables.
FRY THE TEMPURA:
1) Preheat oil to 360(F).
2) Coat clean, dry vegetables and shrimp with chilled tempura batter and carefully drop into hot oil.
3) Fry until golden, 2-3 minutes per piece.
4) Drain fried items on a paper towel and season with coarse salt immediately.
5) Serve crisp, hot Tempura with Dipping Sauce.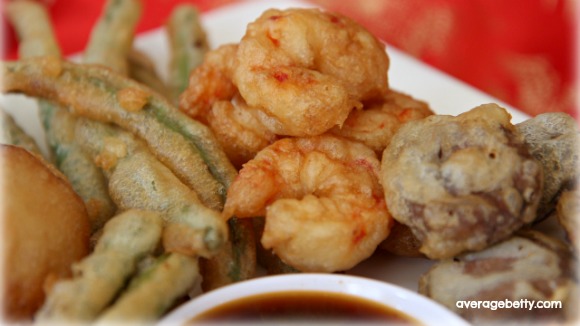 For added instruction and entertainment, watch Tempura for Catwoman!

Don't miss a video… SUBSCRIBE TO AVERAGEBETTY on YouTube!