Y
Click for printer-friendly version!
An experiment in extra comfort. As if Mac N Cheese isn't comforting enough, it's extra comforting when it makes itself. This experiment in crock-pottery is a request from Erin B for Monday nights when her kids' swim practice cuts in to dinner making time. For added instruction and entertainment watch the How to Make Crock Pot Mac N Cheese Video.
Ingredients for Crock Pot Mac n Cheese Recipe:
1 pound macaroni
5 cups milk
2 eggs
4 cups shredded cheese of your choice
2 tsp. soy sauce
2 tsp. mustard (optional)

Notes: Makes 10-12 servings. Because all crock pots vary in size, construction and heating temperatures, cooking times may vary. As you'll see in the video, I didn't care for the addition of dijon mustard in this recipe, it was an experiment based on so many Macaroni and Cheese recipes I've read.
I like to add the soy sauce instead of salt for umami; although next time I'll omit and try a little fish sauce as recommended by Michael Ruhlman in his new book, Ruhlman's Twenty (as discussed on Evan Kleiman's Good Food). And if you've been learning to cook with Chef John of Foodwishes over the years, you know he calls anchovy paste, "Italian umami." I don't always have anchovy paste on hand but I always have fish sauce. Next time!
Directions:
1) Brush or spray the inside of the crock with cooking spray.
2) Crack eggs into crock pot and whisk.
3) Add mustard (if desired) and soy sauce. Whisk again.
4) Add milk and half the shredded cheese.
5) Add uncooked macaroni.
6) Stir in remaining cheese and milk.
7) Cover and cook on low for 3.5 hours or high 2.5 hours, stirring once every hour.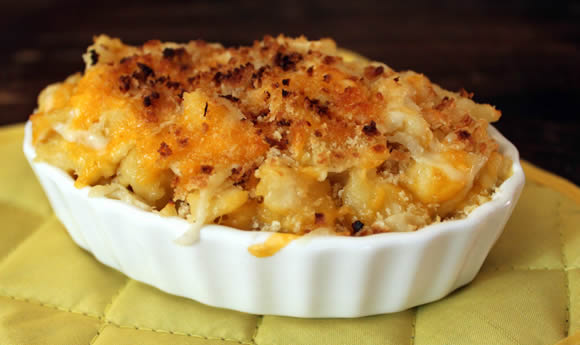 For something extra delicious, spoon into an oven safe dish and top with a mixture of panko and shredded cheese. Broil until crisp and golden. For added instruction and entertainment, watch the Crock Pot Mac N Cheese video.

Share and enjoy.