Y
WATCH THE VIDEO!
You know, I say this a copy-cat recipe but I actually found it on the Panera Bread website.
Just right there… Here's how we make our Roasted Cheddar Potato Soup. It's no secret.
Sure, I've changed a few things and, Oh! I made an accompanying video for added instruction, yes… but also added enjoyment.
You should definitely watch the video.
Ingredients for Copy Cat Panera Bread Roasted Potato Soup:
5 medium Idaho Russet Potatoes, peeled & cut into 1-inch pieces
3 TBSP olive oil
1 medium onion, chopped
2 ribs celery, chopped
2 carrots, chopped
1 bay leaf
5 – 6 cups chicken broth or vegetable broth (or as needed for consistency)
2 cups shredded extra sharp cheddar cheese
salt & pepper to taste
sour cream, chopped green onion, bacon bits for garnish
NOTES:
Serves 6. For added instruction, entertainment and bad singing watch the Copy Cat Panera Bread Roasted Potato Soup Video.
Directions for Copy Cat Panera Bread Roasted Potato Soup:
1) Peel and chop Idaho Russet Potatoes into similar sized pieces.
2) Place potato pieces in a bowl and drizzle with olive oil, season with salt and pepper. Toss to coat and spread in an eve layer on a baking sheet.
3) Preheat oven to 450(F) and bake until deeply golden on only one or two sides.
4) While the potatoes are roasting, start the soup base.
5) In a large pot over medium heat, add a tablespoon or two of olive oil. Add onion, carrots and celery and saute just until color develops.
6) Add three-quarters of the roasted potatoes, then stir in chicken broth.
7) Add bay leaf and simmer about 20 minutes.
8) Remove bay leaf and transfer contents of pot to a blender. Puree until smooth.
9) Return pureed soup to pot and add cheddar cheese and the remaining roasted potatoes.
10) Heat thoroughly and serve piping hot with sour cream and chives.

For added instruction, entertainment watch the Copy Cat Panera Bread Roasted Potato Soup Video.

Don't miss a video… SUBSCRIBE TO MY CHANNEL ON YOUTUBE!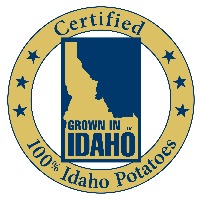 The Average Betty Test Kitchen developed this recipe and produced this video on behalf of the Idaho Potato Commission.
For more great recipes using Idaho Potatoes, check out the Idaho Potato Commission Website.