Y
WATCH THE VIDEO!
I just realized Sara rhymes with Panera.
You know, Panera Bread? The quick service place people go bonkers for. At least people I know, anyway.
Oh well. I guess that's just as crazy as all the singing in this video.
What can I say? Creamy, cheesy, Roasted Potato Soup just makes me want to sing!

Get the Copy Cat Panera Bread Roasted Potato Soup Recipe as seen in the video.
Get the REAL PANERA BREAD ROASTED POTATO CHEDDAR SOUP RECIPE.

For added instruction and entertainment watch the Copy Cat Panera Bread Roasted Potato Soup Video.

Don't miss a video… SUBSCRIBE TO MY CHANNEL ON YOUTUBE!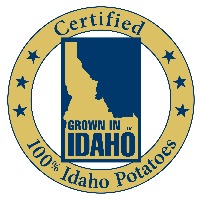 The Average Betty Test Kitchen developed this recipe and produced this video on behalf of the Idaho Potato Commission.
For more great recipes using Idaho Potatoes, check out the Idaho Potato Commission Website.