Y
iptaccess="always" allowfullscreen="true"/>
WATCH THE VIDEO!
Creamy California Avocado is the crown on this king-sized breakfast!
A combination of fresh, leftover, and convenience products make this impressive breakfast very low impact. And since legend has it that Chilaquiles cure hangovers… you might be moving a little slowly when you're whipping this one together.
Ingredients for Chilaquiles:
On top:
1 ripe California Avocado, peeled, seeded and diced
2 TBSP chopped cilantro
2 TBSP chopped green onion
1/3 cup diced tomato
1 teaspoon lime/lemon juice
4 eggs
On bottom:
4 cups tortilla chips
1 cup shredded pork (chorizo, shredded chicken or beef)
1 serrano chili pepper, seeded and diced
1/2 cup diced onion
3/4 cup tomato salsa
3/4 cup chipotle salsa
1/4 teaspoon baking soda
1/2 cup sour cream
1/4 cup Cotija cheese
1/3 cup shredded jalapeno jack cheese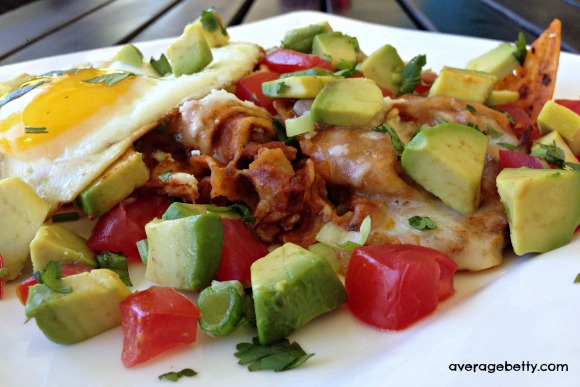 NOTES:
Serves 4. For added instruction and entertainment, watch the Chilaquiles Video.
Directions for Chilaquiles:
1) Prepare the avocado, cilantro, green onion and tomato and set aside.
2) In a skillet over medium heat, saute onion and serrano pepper in a small amount of oil until tender.
3) Stir in salsas.
4) Stir in baking soda.
5) Add sour cream and stir until smooth.
6) Begin adding tortilla chips a handful at a time, tossing gently to coat.
7) Arrange chips in sauce evenly in pan. Heat throughly.
8) Top with Cotija and jack cheese.
9) When cheese is melted, portion on to plates and top with avocado, cilantro, green onion, tomato and squeeze of citrus.
10) Top with an egg. (fried over medium if you're making one for me)

For added instruction and entertainment, watch the Chilaquiles Video.

California Avocado Lettuce Wraps is another perfect summertime recipe featuring California Avocados!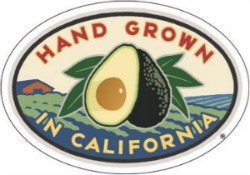 The Average Betty Test Kitchen developed this recipe and produced this video on behalf of the California Avocado Commission.
Nutrient dense California Avocados provide nearly 20 essential nutrients, including fiber, potassium, Vitamin E, B-vitamins and folic acid and enable the body to absorb more fat-soluble nutrients.
For more great recipes using California Avocados, check out the California Avocado Commission Commission Website.

Don't miss a video… SUBSCRIBE TO MY CHANNEL ON YOUTUBE!