Y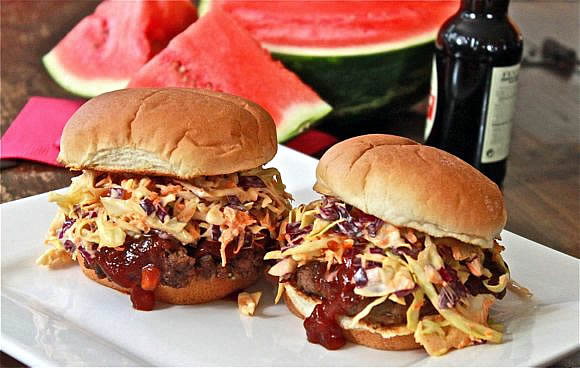 Is there anything more American than the shortcut? I mean, there's something fundamentally wrong about writing a recipe for barbecue sauce that calls for barbecue sauce. It's very Sandra Lee. It's very semi-homemade. Will you forgive me?
I bet if you taste one of these BBQ Burgers with Coleslaw this Fourth of July weekend you'll forgive me. And you'll not only forgive me; you'll thank me. And then you'll ask for more napkins with your mouth full as you gulp keg beer from a red plastic cup. That's why we're friends, you and I. We overlook each other's shortcomings. And shortcuts. Happy Fourth y'all!
Check it out! This recipe was featured in the LA Weekly.
Ingredients for Burger Patties:
1 pound ground beef
1 green onion minced
1/2 tsp garlic powder
2-3 tbsp barbecue sauce
salt & pepper
Ingredients for Coleslaw:
2 cups shredded cabbage
1/3 cup shredded carrot
Ingredients for Caramelized Onion BBQ Sauce:
3/4 cup chopped sweet onion
1/2 cup barbecue sauce
1/2 cup tomato sauce
1 tbsp balsamic vinegar
1 tbsp honey
Notes:
Makes four, quarter pound burger patties, two cups coleslaw and one cup barbecue sauce. Dress Coleslaw with one tablespoon rice vinegar and one teaspoon honey or two tablespoons mayonnaise and a squeeze of lime. You can even dress the slaw with ranch dressing… it's your sandwich.
Directions:


Make the BBQ Sauce. In a small sauce pan over medium-low heat, add a teaspoon of olive oil and chopped onions. Sweat onions until they begin to turn golden, do not char. Add balsamic vinegar, your favorite barbecue sauce, tomato sauce and honey. Turn the heat down and cover. Simmer for at least 30 minutes, up to an hour, stirring occasionally. Flavors deepen with time.
Make the Coleslaw. Combine shredded cabbage and carrot with one tablespoon rice vinegar and one teaspoon honey or two tablespoons mayonnaise and a squeeze of lime. Refrigerate until ready to use.

Make the Burger Patties. Preheat your grill. Combine ground meat, minced green onion, garlic powder, black pepper and barbecue sauce. Loosely shape burger patties. If meat mixture is too moist for your taste, add a tablespoon of panko breadcrumbs and incorporate into patties before shaping. Salt patties just before grilling. Grill until desired temperature.

I like grilled buns and I can not lie.

Build the BBQ Burger. Add a smear of Caramelized Onion BBQ Sauce to the grilled or toasted bottom bun. Top with burger patty and another smear of BBQ Sauce.

I never said this wasn't messy. Top each burger with about a quarter cup of Coleslaw and top bun.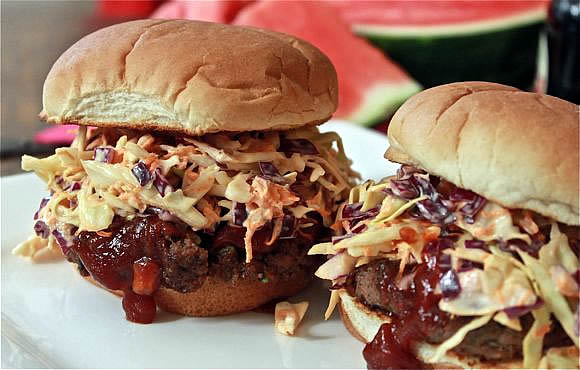 Grab some extra napkins. Share and enjoy.