Y

Drum roll, please! The winner of the I Can't Believe It's Not Butter!® Holiday Bake-Off Giveaway is… Audrey Shay! Congratulations, Audrey! I hope the Cupcake Prize Package makes your holiday baking more enjoyable and delicious! Big thanks to I Can't Believe It's Not Butter! for sponsoring the Holiday Bake-Off Giveaway and my trip to New York to compete in the first ever I Can't Believe It's Not Butter!® Holiday Bake-Off. How'd I do?
Well, I'm proud to announce that I won the I Can't Believe It's Not Butter!® Holiday Bake-Off! It's true, my I Can't Believe It's Not Buttercream! Frosting and Snowball Cupcakes won!
This was my first baking competition and I was a bit more nervous than I thought I would be. The sights and smells of the competing baked goodies were very intimidating.
I only hope my fellow competitors knew I was joking when I used the reality show cliche, "I'm not here to make friends, I'm here to win!"
WINNER WINNER CUPCAKE DINNER!

A few last minute plating changes and the fate of my Snowball Cupcakes was in the hands of the judges. The last to be evaluated, I was worried about the flavor of my cupcakes being lost in palate fatigue. But the Snowball Cupcakes prevailed! Barry Sands, Brand Manager for I Can't Believe It's Not Butter!, awarded me the grand prize — a Classic Series Kitchen Aid Mixer. It was an honor just to participate, and winning is simply overwhelming. (photo credit: www.paulgelsobellostudio.com)
SCHOOLING IN THE TEST KITCHEN

Chef Normajean Longfield, Unilever's Test Kitchen Director, whipped up desserts, told tales from the test kitchen and asked about our baking equipment and goals. We discussed food trends, various Unilever products and lots of baking tips. Sure I love my I Can't Believe It's Not Butter!, Skippy and Best Foods Mayonnaise, but I never gave much thought to the Unilever company. Meeting Normajean and the people that work at the Test Kitchen changed that. Developing great recipes using products you trust is serious business, and you can tell Normajean and her team love what they do.

First, Normajean whipped up these Ultimate Triple Chocolate Chunk Cookies that we could hardly wait to try.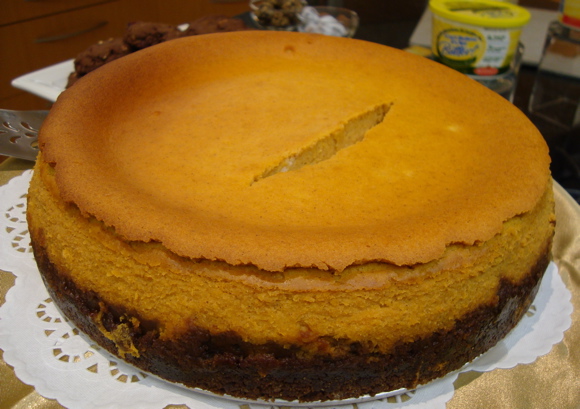 Next up was this Holiday Pumpkin Cheesecake with a Gingersnap Cookie Crust.

Finally, the little black dress of Normajean's Holiday Baking Demonstration, Decadent Orange Truffles.
Just when I thought I might have deliciousness overload, lunch was served!
I couldn't believe all of the different ways I Can't Believe It's Not Butter! was used to make the various savory and sweet appetizers. I loved the tasting; I know I'm not the only one leaving with a lot of great holiday entertaining ideas.
Two of the biggest surprises to me were the Orange Port Glazed Turkey Meatballs and the Maple Glazed Ribs.
MY FAVORITE BITES!

The Twice Baked Fingerling Potato Bites were a crowd favorite.

Nothing says the holidays like Honey Nut Glazed Brie.

Sweet Potato Pancakes with Brown Sugar Cream will be on the menu for my next party.

A super-fun idea, Buffalo Chicken Sliders!

It was a great experience visiting the Unilever Test Kitchen and meeting all of the fabulous bloggers I now consider friends. The very talented Anna from Cookie Madness has beautiful photos of all the delicious entries. Check out all of the I Can't Believe It's Not Butter! Holiday Bake-Off recipes and bloggers:
Aly's Trilogy of Fondues
Liz's Homemade Twix Bars
Anna's Profiteroles with Peppermint Ice Cream and Chocolate Ganache
Alison's Pecan Pie Bars
Barbara's Snickerdoodle Snack Cake
Jenn's Cranberry White Chocolate Cupcakes
Tiffany's Cranberry Muffins with Orange-Marmalade Glaze
Amanda's Peppermint Patty Brownies