Y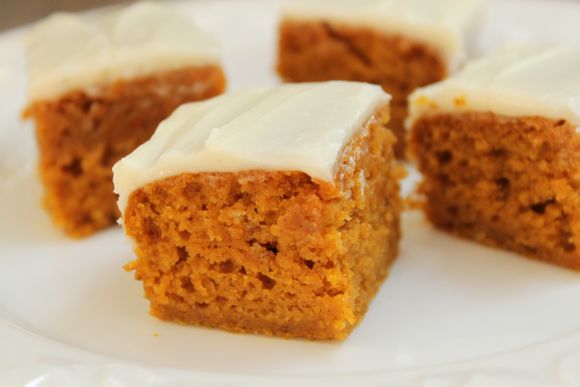 Today is the first day of Fall. Autumn, if you will.
Summer in SoCal has been brutally hot this year and there really is no sign of cooling anytime soon. So I figure, I can conjure up some cool weather vibes just by posting some of my favorite autumnal recipes.
Yeah, I said autumnal.
Take these Pumpkin Bars for example (top). If they can't get you excited for falling leaves, cozy sweaters and roaring fires… well, all the more Pumpkin Bars for me!
Get the recipe for Pumpkin Bars with Cream Cheese Frosting and watch the very autumnal Pumpkin Bars Video.

It's just like me to start with dessert, isn't it?
Well you'll deserve a little somethin' somethin' after this Creamy Chicken and Brown Rice Soup. It's a healthy alternative to a heavier chicken stew that also makes a great take-to-the-office-comfort-lunch.
Yeah, I just made that lunch category up. But it works, right?

What is better than throwing a rack of ribs in the oven and practically forgetting about them?
This technique for Oven Baked Ribs is a must have in your Fall repertoire. If you aren't into spicy, not to worry. Simply use your favorite barbecue sauce or rub for a fuss-free meal they'll gobble up.
And did I mention these are mancave approved football fare? TOUCHDOWN!
Get the recipe for Oven Baked Hot Ribs and watch the instructional HOT RIBS Video.

Don't neglect the most important meal of the day!
This easy Green Chili Egg Casserole will have them awake, alert and satisfied faster than a pot of fresh brewed coffee. Especially if you make bacon. And coffee.
Get the Green Chili Egg Casserole Recipe and watch the Green Chili Egg Casserole Video.

Need an appetizer that is sure to impress?
Well, Wolfgang Puck has never steered me wrong. These perfect little one-bite flavor explosions, served with champagne, will start any dinner party off on an elegant note that even your Mother-in-law will might appreciate.
Get the Crispy Potato Galette with Smoked Salmon and Dill Cream Recipe and watch the Crispy Potato Galette with Smoked Salmon and Dill Cream Video.
Trying any of my Fall Favorites has got to prompt a break from this heat wave, right? So I hope you get into the kitchen soon.
I mean, sweaters are on sale and I can't even bear the thought of sleeves. Oh, the inhumanity!
Tell me, what recipes are you most looking forward to enjoying this season? Share links to your autumnal favorites in the comments!