Y
BARTOLOTTA BACKSTORY


In a recent Las Vegas culinary tour, I had the distinct pleasure of meeting up with two-time James Beard Foundation Awards winner, Chef Paul Bartolotta, in his cavernous kitchen at Bartolotta Ristorante Di Mare at Wynn Las Vegas. Chef Bartolotta is not only one of the greatest chefs ever to film a cooking demonstration for Average Betty, he is also one of the most genuine, loving and family-oriented people I have ever met.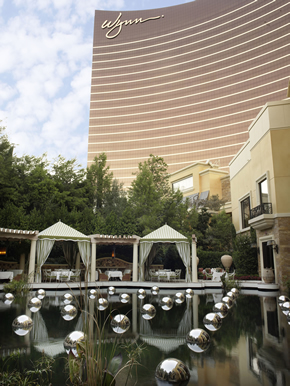 The restaurant is located in Wynn's shopping esplanade — a good tip if you're late for your reservation.
Guests enter Bartolotta on the top lounge level; a grand spiraling staircase leads to the dining level featuring outdoor lagoon-side seating in private cabana booths (left). Fish is filleted table-side and there is plenty on the menu for landlubbers.
Although the restaurant was not yet open for dinner, and therefore empty, I could feel the memories created in this breathtaking, delicate space.
FRESH MEDITERRANEAN LANGOUSTINES

Chef Bartolotta greets me warmly, and we make our way back to the kitchen. Easily the grandest kitchen I have been in; it's a mass of stainless steel and burners, impeccably organized and bustling with preparations for the coming night. Already on top of the game plan, Chef Bartolotta gives me an atypical choice for a Thursday afternoon: Langoustines or clams?
Moments later, fresh clams, leeks, olive oil and wine are swirling in a stainless steel pan and the kitchen perfumes with flavors of the Mediterranean. I get the feeling Chef Bartolotta could make this masterpiece with his eyes closed.
Next thing you know, we're sharing Brodetto di Vongole e Porri family style, soaking up the delicious broth with freshly made Bruschetta.
Spending time in the kitchen with Paul Bartolotta starts with a lesson in Italian and ends with one on parenthood. Woven in between are Bartolotta's authentic Italian food philosophy, display of love and affection for his fresh Mediterranean ingredients, and desire to share simply prepared, fresh, authentic Italian seafood. And when you see how passionate he is about all of these things, you learn something about life.
GET THE RECIPE


The Brodetto di Vongole e Porri (Tiny Clams in a White Wine Broth with Leeks) Chef Bartolotta prepares is genius; it's pure and flavorful, and a dish easily recreated in your home kitchen. I know I'm going to give it a try in mine! Get the recipe here.