Y
WATCH THE VIDEO!
Did you know February is Potato Lover's Month?
And what better way to celebrate Idaho Potatoes than with a room full of hungry spud lovers and a menu that can double as a calendar?
Erika Kerekes and Judy Lyness cranked out one potato dish after another highlighting Idaho Potatoes for every occasion.
A crowd favorite was the Fried Buffalo Style Potato Skins (video thumbnail, above).
Special thanks to super eaters Luci Petlack, Linda Whittig, Tanaya Ghosh and Greg Henry and Videographer/Editor: Daniel Rego. All photos credit: Linda Whittig.
Idaho Potato Palooza 2015 Menu


Valentine's Day: Pink Idaho Potato Candy Hearts

St. Patrick's Day: Herbed Mashed Idaho Potato Parfaits

Cinco de Mayo: Potato Tacos

4th of July: Lemony Idaho Potato Salad

Labor Day: Grilled Bacon-Wrapped Potato Skewers

Halloween: Pumpkin Potato Soup

Easter: Hash Brown Baskets with Baked Quail Eggs

Hanukkah: Potato Donuts with Purple Potato Cream Filling

Christmas: Red and Green Idaho Potato Bread Pinwheels

Super Bowl: Fried Buffalo Style Potato Skins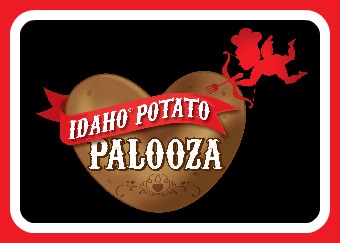 Special thanks to Don Odiorne and the Idaho Potato Commission for sponsoring fun activities like #IdahoPotatoPalooza so bloggers with a shared love of spuds can connect irl!
For more great recipes using Idaho Potatoes, check out the Idaho Potato Commission Website.

Don't miss a video… SUBSCRIBE TO MY CHANNEL ON YOUTUBE!