Y
CANTEENWALLAPALOOZA!
Executive Chef Kim Canteenwalla of Society Cafe Encore, Las Vegas is as cool and laid back as the '76 Eldorado ragtop he drives. His groove is infectious and his busy kitchen is humming like a fine-tuned big block engine.
Chef Kim is personable, friendly and doesn't just seem like he wants to get to know you– he does. He sat down with Team Betty in the Society Cafe dining room after preparing his Caramelized Sea Scallops back in the kitchen.
While we enjoyed delicious selections from the menu, including Tuna Tacos, BBQ Pulled Pork Sliders and Sweet Potato Fries, we got a taste of this Montreal native's generosity and passion for food, family and pink peppercorns.
When I asked Chef Kim about his cuisine at Society Cafe he explains, "We're basically Contemporary American. We do some classic dishes with our twist to it, therefore making it Contemporary. We start with great product and execute it well and then serve it well; without a lot of hula-hula, it's just good product, great service and a fun time with it."
But don't let Chef Kim's big smile, tousled hair and relaxed attitude fool you. He's on the line in the kitchen, not just cooking but lending a hand wherever one is needed. He's got a keen eye for detail and pride in the plates leaving his kitchen, and it's easy to see in "killer" dishes like his Caramelized Sea Scallops.
I CANTEENWALLA HAZ SCALLOPS?


Yez you canz! If you can't hop on the next flight out of town to experience Society Cafe at Encore Las Vegas, get the recipe for Chef Canteenwalla's Caramelized Sea Scallops with Cauliflower Puree & Fritters, Pancetta and Black Truffle Emulsion here and sizzle a little high society at home.

Sliders! What an assortment! Filet Mignon with Caramelized Onions and Horseradish Cream, a Lobster Club with Pancetta, Avocado, Tomato Confit, (in the spotlight) BBQ Pulled Pork with Virginia Slaw and Butter Pickles and a Sloppy Joseph with Spiced Sirloin and Butter Pickles.

My favorite! Tuna Tacos with Spicy Tuna Tartare, Crispy Tortilla and Avocado Cream.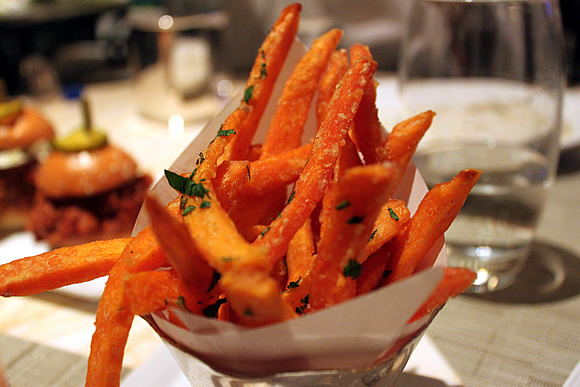 Sa-weet! Sweet Potato Fries with house made ketchup served up like a bouquet. A tasty, tasty bouquet.
GREATEST AMERICAN BENTO


Think American Bento Box. With five different kinds of salads, sliders, soups and desserts to choose from and build-your-own Bento, the Society Lunch Box is a true power lunch.

One of the few restaurants of its caliber on The Las Vegas Strip to serve breakfast, lunch and dinner, the Society Cafe Encore is 168 seats of casual elegance. Booths cradle you, the menu comforts you and the decor entertains you. Bright pops of color contrast black and white. Hard marble juxtaposes billowy fabric. The mouth-watering dishes shown here are just a sample of the three page menu. For Contemporary American Classics with a creative twist, get to Society Cafe Encore and say, "I Canteenwalla haz scallops?" (photo credit: Barbara Kraft)
Special thanks to Chef Kim Canteenwalla, Society Cafe Encore; John Merrill, General Manager; Maggie Feldman, Judy Stone, Magnetic Public Relations; Emily Wofford and the Las Vegas Convention and Visitors Authority for making this cooking demonstration possible.