Y
These days there are as many Summer camps as there are food contamination outbreaks, so which camp should you send your kids? Dance Camp? Fashion Camp? Not even. Send your kids to Fish Camp! Camp Counselor Betty's waiting to start them on a strict regimen that will force them to love fish. And when the kids return home, you can finally serve up that delicious grilled halibut with roasted pepper aioli without all the whining and complaining.
Will Camp Counselor Betty be able to get through to Schoolgirl Betty and force her to love fish? Check out Fish Camp and find out for yourself!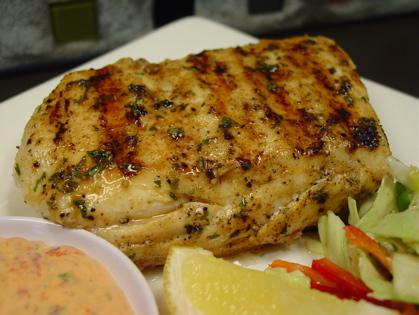 Link to the Grilled Fish with Roasted Red Peppper Aioli recipe.

Click for printer-friendly version!
Link to the Fish Camp video.
Link to the accompanying Fish Camp blog post.