Y
WATCH THE VIDEO!
It isn't everyday you get to have it all! And when chocolate, coconut, oatmeal cookies have mashed potatoes in them and potato chips on top… they truly have everything. Well, everything but gluten!

Don't miss a video… SUBSCRIBE TO MY CHANNEL ON YOUTUBE!

Watch the EVERYTHING Cookies Video to learn the perfect method for cooking and measuring the mashed potatoes.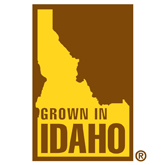 For more great recipes using Idaho Potatoes, check out the Idaho Potato Commission Website.