Y
This deep into summer you might want need to make lunchtime a little more fun.
And fun is all in the presentation. Am I right?
When I was a kid, we ate a lot of tuna sandwiches. I liked them best when my Mom would add chopped, hard boiled egg to the mix. I would try to get a little bit of egg in every bite. I still do.
If Mom was really trying to make lunchtime crazy we ate this Tuna and Egg Salad on saltine crackers. Come 2015, Tuna and Egg Salad Pita Bites just seem a little more cray-cray. Am I right?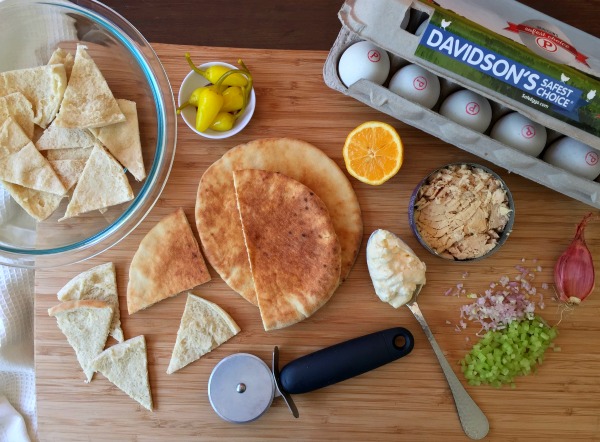 When you're cooking with kids there is a great peace of mind when you choose Davidson's Safest Choice Eggs. Whether you hard boil them yourself or save some time and use Davidson's Safest Choice Hard Boiled Eggs, the all-natural pasteurization process eliminates the risk of salmonella without changing the nutrition or flavor.
Ingredients for Tuna and Egg Salad:
2 Davidson's Safest Choice Eggs (hard cooked)
1 can tuna in water (about 5 ounces)
2 TBSP finely diced celery
1 TBSP finely diced shallot (or similar)
1 TBSP finely diced and seeded pepperoncini or similar (optional)
2 TBSP mayonnaise
2 teaspoons lemon juice
salt and black pepper to taste
Ingredients for Pita Bites:
2 pieces pita bread
oil for brushing/spraying
coarse salt
NOTES:
Makes about 2 cups Tuna and Egg Salad and 30 Pita Bites. While the Tuna and Egg Salad is chilling, make the Pita Bites (or Chips).
Directions for Hard Boiled Eggs:
1) Place eggs in saucepan and cover with cold water.
2) Bring eggs to a boil and cover pot with lid.
3) Remove pot from heat and set a timer for 12-18 minutes. ( I go about 16 minutes.)
4) Drain hot water and replace with ice water.
5) Peel eggs when you are able to handle them.
6) Rinse thoroughly to ensure eggs are free from shell.
7) Chop into small to medium sized chunks.
Directions for Tuna and Egg Salad:
1) In a bowl combine flaked, drained tuna with celery, shallot, pepperoncini, lemon juice, salt and pepper.
2) Fold in mayonnaise.
3) Gently fold in chopped hard boiled egg.
4) Cover and refrigerate until ready to serve.
Directions for Pita Bites:
1) Use a pizza cutter or knife and cut pita bread into even sized triangles. Separate the two layers.
2) Coat the triangles with oil and season with coarse salt.
3) Bake triangles in a preheated 350(F) oven for about 10 minutes, until golden and crisp. Please note the "thinner" side of the pita bread triangles will cook more quickly and may need to be removed first. Serve warm or cool.

Serve Tuna and Egg Salad as a dip with the Pita Bites or assemble ahead of time.
The Average Betty Test Kitchen developed this recipe on behalf of Davidson's Safest Choice Eggs.
Safest Choice sources eggs from vegetarian-fed hens that are hormone and antibiotic free, from USDA certified and inspected Kosher certified farms.
The Safest Choice all-natural egg pasteurization process eliminates the risk of salmonella in eggs before the eggs even enter your kitchen.
For more great recipes using Davidson's Safest Choice Eggs, check out the Safe Eggs Recipe Center. Follow on Facebook for news and coupons.

Don't miss a video… SUBSCRIBE TO MY CHANNEL ON YOUTUBE!