Y
Super Easy Vegan Truffles are not only super easy, they have an unexpected secret ingredient.
And you need just a few simple ingredients to make the dream of chocolatey, vegan truffles a reality. Although one ingredient might seem a little strange… at first.

So what's the big secret? What's the strange ingredient? It may have something to do with an Idaho Russet Potato, but you'll have to watch the video to find out.
Ingredients for Super Easy Vegan Truffles:
1 baking size Idaho Russet Potato
1 cup sifted powdered sugar
1/4 teaspoon salt
1/4 cup coconut milk
1 teaspoon vanilla
1 cup melted dark chocolate
For coating:
cocoa powder, cayenne pepper, curry powder, dark chocolate, roasted, salted pumpkin seeds, sprinkles
NOTES:
Makes about 24 truffles. One baking sized Idaho Russet Potato yields about one cup potato. For added instruction, entertainment, singing and silly sounds effects, watch the Super Easy Vegan Truffles Video!
Directions for Super Easy Vegan Truffles:
1) Prepare Idaho Russet Potato by baking in oven or cooking in microwave.
2) In an electric mixer, combine potato, sugar and salt. Combine thoroughly.
3) Stream in coconut milk and add vanilla.
4) Whip electric mixer on high until mixture is very smooth.
5) Add melted chocolate and mix well.
6) Cover and allow to chill in the refrigerator for at least 30 minutes.
7) Scoop by teaspoonfuls and roll into balls. Coat with desired toppings.
8) Store refrigerated for up to one week.

For added instruction and entertainment watch the Super Easy Vegan Truffles Video!

Don't miss a video… SUBSCRIBE TO MY CHANNEL ON YOUTUBE!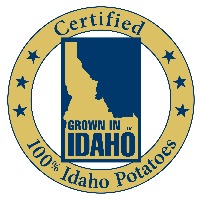 Average Betty and the Idaho Potato Commission have been partners in bringing you video recipes since 2011.
The Average Betty Test Kitchen developed this recipe and produced this video on behalf of the Idaho Potato Commission.
For more great recipes using Idaho Potatoes, check out the Idaho Potato Commission Website.