Y
WATCH THE VIDEO!
Whether you call them Irish Road Kill, Crash Hot Potatoes or Roasted Smashed Potatoes, the results are the same: Creamy, crispy and bursting with flavor.
If you can't get your fingers on some Gourmet Fingerling Potatoes from Southwind Farms Idaho, try using small red, gold or russet potatoes.

Ingredients for Smashed Fingerling Potatoes:
12 assorted Idaho Fingerling Potatoes (Russian Banana, Purple Peruvian, Ruby Crescent)
olive oil
salt and pepper to taste
herbs and other spices to taste
NOTES:
Serves 4-6. For added instruction and entertainment, watch the Smashed Fingerling Potatoes Video.
Directions for Smashed Fingerling Potatoes:
1) In a pot with a lid, cover clean fingerlings with water.
2) Bring water to a gentle boil, cover with lid, and reduce heat to low.
3) Cook fingerlings until fork-tender, about 10-12 minutes.
4) Drain water from fingerlings and arrange on an oiled baking sheet.
5) Use a potato masher to smash each fingerling, first in one direction and then the other.
6) Brush smashed fingerlings with a little more olive oil and season to taste with salt, pepper, fresh herbs or other spices.
7) Bake smashed and seasoned fingerlings in a preheated 450(F) oven for 20-25 minutes, until golden, crisp and sizzling.
8) Enjoy!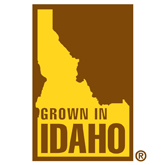 For more great recipes using Idaho Potatoes, check out the Idaho Potato Commission Website.

Don't miss a video… SUBSCRIBE TO MY CHANNEL ON YOUTUBE!