Y
Sometimes you just want something that is all your own.
And if it involves Idaho Potatoes, so be it.

No matter how you stack them, Potato Stacks won't disappoint. Because have you ever been disappointed by something that was stacked?
Ingredients for Potato Stacks:
3 10-12 ounce Idaho Russet Potatoes
Lasagna Style:
1 cup ricotta cheese
1 cup shredded mozzarella cheese
1 cup tomato sauce
Green Chili + Cheese Style:
1 cup green chili salsa
1 cup shredded cheddar and monterey jack cheeses
NOTES:
Makes one dozen Idaho Potato Stacks. Watch the Potato Stacks Video for added instruction and entertainment.
Directions for Potato Stacks:
1) Peel potatoes.
2) Slice potatoes into thin disks.
3) Layer potatoes with desired ingredients in prepared muffin pan.
4) Bake in a 350(F) oven for 40-50 minutes or until tender, golden and bubbling.
5) Allow to cool in the pan. Cut around edges to remove. Serve warm or at room temperature.

For added instruction and entertainment watch the Potato Stacks Video and subscribe to my channel on the YouTube!

Don't miss a video… SUBSCRIBE TO MY CHANNEL ON YOUTUBE!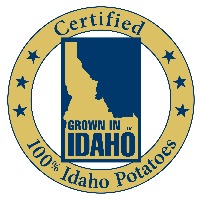 Average Betty and the Idaho Potato Commission have been partners in bringing you video recipes since 2011.
The Average Betty Test Kitchen developed this recipe and produced this video on behalf of the Idaho Potato Commission.
For more great recipes using Idaho Potatoes, check out the Idaho Potato Commission Website.