Y
Potato Nachos are just too easy.
And by easy — sure, I mean they are easy to make.
But the mash up of seasoned, oven roasted Idaho Potato slices and spicy, cheesy nachos is just too easy.
Face it, Potato Nachos are a spectacle of a snack.

Don't think of Potato Nachos as jumping the shark. They're more like leap-frogging the tortilla chip.
Ingredients for Potato Nachos :
1 baking size Idaho Russet Potato
1 TBSP olive oil
1 teaspoon corn meal
1/2 teaspoon ground cumin
1/2 teaspoon chipotle chili powder
1/2 teaspoon coarse salt
1/2 cup shredded cheese
2 TBSP pickled nacho jalapenos
1 TBSP diced green onion
2 TBSP diced tomato
1 teaspoon torn cilantro leaves
guacamole, sour cream
NOTES:
One Idaho Russet Potato serves 2-4. For added instruction, entertainment, singing and silly sounds effects, watch the Potato Nachos Video!
Directions for Potato Nachos:
1) Clean and dry potato.
2) Slice into thin disks.
3) Place potato slices in a bowl and drizzle with olive oil. Season with corn meal, cumin, chipotle chili powder and salt and toss to coat.
4) Place seasoned potato slices on a baking sheet. Bake in a preheated 425 (F) oven for 10 minutes. Remove from oven and flip. Return to the oven and bake an additional 10-15 minutes, until desired crispiness.
5) Arrange crisp potato slices on an oven safe (or microwave safe) plate and top with cheese and jalapeno (and any other toppings you'd like).
6) Place under broiler (or into microwave) to melt cheese.
7) Garnish with green onion, diced tomato, guacamole, sour cream and cilantro.
8) Serve and enjoy immediately.

For added instruction and entertainment watch the Potato Nachos Video!

Don't miss a video… SUBSCRIBE TO MY CHANNEL ON YOUTUBE!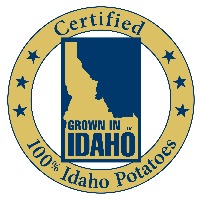 Average Betty and the Idaho Potato Commission have been partners in bringing you video recipes since 2011.
The Average Betty Test Kitchen developed this recipe and produced this video on behalf of the Idaho Potato Commission.
For more great recipes using Idaho Potatoes, check out the Idaho Potato Commission Website.