Y
A Pizza Potato is the lovechild of a pizza and a baked potato.
Pizza Potatoes are delicious for all the reasons pizza and baked potatoes are delicious.
And that's not hard to understand.

Sure, the Pizza Potato is just a baked potato dressed up like a pizza – but the crisp skin and fluffy, cheesy interior create a calzone effect.
Ingredients for Pizza Potato:
1 baking size Idaho Russet Potato
1/4 cup shredded Pecorino Romano
1/3 cup Ricotta cheese
1 TBSP melted butter
olive oil
coarse salt
NOTES:
One Idaho Russet Potato makes two halves, and depending on the size of your potato, serves 1-2. For added instruction and entertainment watch the Pizza Potato Video!
Directions for Pizza Potato:
1) Clean and dry potatoes. Poke with holes.
2) Microwave potato according to manufacturer directions.
3) Cut potato in half and scoop out the center.
4) In a bowl, combine potato, salt, Pecorino Romano cheese, ricotta cheese and melted butter.
5) Brush hollowed out potato skins with olive oil and season with salt.
6) Place potato skins on a baking sheet and fill with potato and ricotta mixture.
7) Top with sauce, cheese and your favorite pizza toppings.
8) Bake in a preheated 425(F) oven for 15 minutes.
9) Enjoy piping hot.

For added instruction and entertainment watch the Pizza Potato Video!

Don't miss a video… SUBSCRIBE TO MY CHANNEL ON YOUTUBE!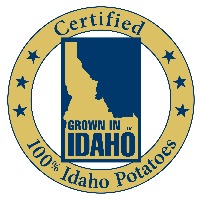 Average Betty and the Idaho Potato Commission have been partners in bringing you video recipes since 2011.
The Average Betty Test Kitchen developed this recipe and produced this video on behalf of the Idaho Potato Commission.
For more great recipes using Idaho Potatoes, check out the Idaho Potato Commission Website.