Y
WATCH THE VIDEO!
Whether it's a two pound MONSTER courtesy of RJ Andrus and the Idaho Potato Commission or a 10 -16 ouncer you can find at any supermarket, a killer baked potato is crispy and golden on the outside, light and fluffy on the inside!
For tips on baking up a killer baked potato WATCH THE MONSTER POTATO VIDEO! And for even more Baked Potato Recipes and Tips check out the Idaho Potato Website.
Ingredients for a Killer Baked Potato:
1 Idaho Burbank Russet (10-16 ounce size)
1 teaspoon olive oil
1/2 teaspoon coarse salt
toppings of your choice

NOTES:
Ingredients listed above are per ten ounce potato. There are as many ways to top a potato as there are a pizza – so get creative! Traditional toppings include butter, sour cream, chopped green onions or chives, bacon bits, and shredded cheese. For lighter alternatives, try topping with fresh salsa, a steamed vegetable medley or a squeeze of lemon. For more outrageous, heartier variations, try topping with chili, barbecued pulled pork, Italian meat sauce or a Brown Butter Mushroom Sauce.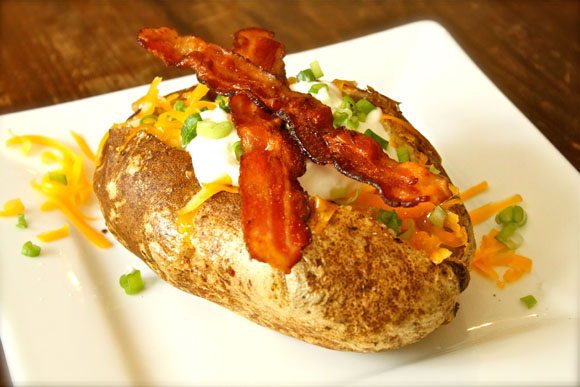 DIRECTIONS FOR A KILLER BAKED POTATO:
1) Preheat oven to 400 (F).
2) Scrub potatoes clean with cold water and remove any imperfections carefully, removing as little skin as possible.
3) Pat potatoes dry and pierce several times with a fork.
4) Brush or rub potatoes with olive oil and sprinkle generously with coarse salt, such as kosher or sea salt.
5) Place potatoes on a baking sheet or shallow baking dish, at least a potatoes width apart, if baking multiple potatoes.
6) Place pierced, oiled and salted potatoes on baking sheet, on the middle rack of the preheated oven.
7) Bake for approximately 60 minutes or until internal temperature of potato measures 210 (F).
MORE TIPS FOR KILLER BAKED POTATOES:
1) Don't wrap baked potatoes in aluminum foil. This will steam the potato, not bake it.
2) If you want the crispiest skin, skip the baking sheet and place potatoes directly on the oven rack. Place the baking sheet (or a piece of aluminum foil) below the potatoes to catch any drippings.
3) Use a fork to POP the potato, not a knife to cut open. If you POP the potato, it will be lighter and fluffier than if you use a knife, because the edge of the knife will seal the fluffy interior together. POPPING the potato means you can use less butter, because it will distribute through the fluffy interior more easily.
4) To properly POP the potato, pierce the potato with a fork, once lengthwise then crosswise. Carefully, push the potato at both ends and it will POP open, or blossom.
For further potato instruction and entertainment watch the How to Make Salt Baked Potatoes Video. If you have a moment, head to my channel on YouTube and SUBSCRIBE.