Y
WATCH THE VIDEO!
It's no illusion. Mashed Potato Pops are magically delicious.
Erika Kerekes is the mastermind behind crisp-fried, mashed potatoes on a stick. Check out her original flavors: Bacon Mashed Potato Pops, with Gruyere cheese, caramelized onions and bacon; Greek Mashed Potato Pops, with chopped spinach, feta cheese and dill; and Southwestern Mashed Potato Pops, with red bell peppers, green onions and pepperjack cheese.
Ingredients for Mashed Potato Pops:
2 pounds Idaho russet potatoes
2 TBSP butter
1/2 teaspoon salt
1 large egg
1 cup panko bread crumbs
Ingredients for Jalapeno Popper Pops:
1/2 cup shredded pepper jack cheese
1/4 cup crisp bacon bits
Ingredients for Garlic Parmesan Ballpark Pops:
1/2 teaspoon garlic powder
1 teaspoon dried parsley
1/3 cup finely shredded Parmesan cheese

NOTES:
Makes about 3 dozen pops. To keep the balls warm and crisp, after frying, place on a rack set on top of a baking sheet in a warm oven. Consider serving with dipping sauces to compliment the flavors of the Pop: Ranch dressing, barbeque sauce, guacamole, honey-mustard or ketchup. For added instruction and entertainment, WATCH THE VIDEO.

Directions for Mashed Potato Popper Pops:
1) Cook the potatoes until fork-tender, either on the stove-top or in the microwave.
2) Drain the potatoes and return them to the pot. Add butter, salt and pepper and mash.
3) Divide the mixture and incorporate suggested ingredients to make jalapeno popper pops in one bowl and garlic Parmesan Pops in another.
4) Roll tablespoonfuls of the potato mixture into balls.
5) Cover each mashed potato ball with beaten egg, then roll in panko breadcrumbs.
6) Heat several inches of oil to 350(F) in a heavy, tall-sided pot or deep-fryer.
7) Fry the balls in small batches, until golden brown.
8) Drain on paper towels and sprinkle with coarse salt.
9) Pierce each ball with a thick wooden skewer.
10) Share and enjoy.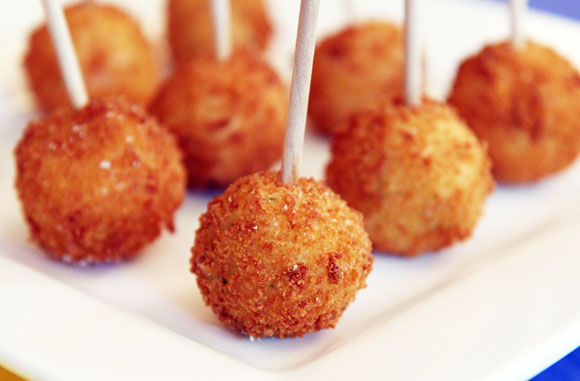 Never miss an instructional cooking video! SUBSCRIBE to my channel on YouTube.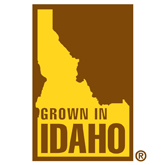 For more great recipes using Idaho Potatoes, check out the Idaho Potato Commission Website.