Y
WATCH THE VIDEO!
Want to hear some comforting news?
A three ounce serving of naturally lean American Lamb on average provides 48% of the protein an adult needs in a day and has 5 times more essential omega-3 fatty acids than beef.
That's comforting.
Want to hear some exciting news?
Comfort food doesn't have to be bland.
That's exciting, isn't it?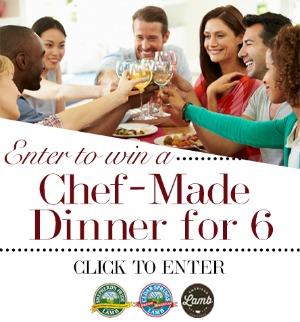 And even more exciting?
The chance to WIN a Lamb Dinner for 6, prepared by a Personal Chef!!
ENTER HERE (or click on the image to the left).
Shepherd's Pride and Cedar Springs American Lamb is tender, juicy and smooth because it's raised by family ranchers with extra care.
Ranchers pledge to produce the safest, highest quality, all-natural lamb that's minimally processed and never administered hormones or antibiotics. #HomegrownLambRocks
Ingredients for Lamb and Potato Diablo:
2 Shepherd's Pride or Cedar Springs American Lamb Shoulder Chop, about 8 ounces (or stew meat)
assorted roasted peppers (red bell, Anaheim, Pasilla, jalapeno)
2 cups chicken stock
1 medium onion, diced
3-4 cloves garlic, minced
chopped cilantro
fresh lime juice
For the Lamb Rub:
1 TBSP Menudo Mix seasoning
1/2 teaspoon cumin
1/8 teaspoon cayenne pepper
1/2 teaspoon brown sugar (optional)
2 teaspoons soy sauce
1 TBSP balsamic vinegar
1 TBSP olive oil
coarse salt & black pepper
For the Extra Creamy Mashed Potatoes:
3-4 medium Idaho Russet Potatoes
2 TBSP butter
2 TBSP sour cream
1/4 cup half and half or heavy cream
coarse salt & black pepper
NOTES:
Serves 2. For added instruction, entertainment watch the Lamb and Potato Diablo Video.
Directions for Lamb and Potato Diablo:
1) Roast the peppers. Season clean, dry peppers with olive oil, salt and pepper. Place on a baking sheet and bake in a preheated 425(F) oven for about 30 minutes, turning occasionally, until charred. Remove from oven, cover and allow to steam, another 30 minutes. Peel skins, remove seeds and slice into strips.
2) Season the Lamb. Open packages of Shepherd's Pride Lamb Shoulder and pat dry. Combine all ingredients listed under Lamb Rub and apply generously to the lamb. Allow to marinate and rest for at least 30 minutes.
3) Prepare the Lamb. In a large, deep skillet, sear lamb on both sides and remove from pan. Add a small amount of olive oil and add chopped onions to pan. Saute until golden, then add garlic, roasted peppers and return seared lamb to pan. Add chicken stock, bring to a bubbling, reduce heat and cover. Simmer for two hours or until tender and falling from bone.
4) Prepare the Mashed Potatoes. When the lamb is about a half hour from finishing, peel and boil potatoes until fork tender. Drain water and mash with butter and salt. Stir in sour cream and half and half until creamy and delicious.
5) Prepare the Roasted Pepper Condiment. Strain peppers and onions from braising liquid and remove lamb. Process peppers and onions in a blender until desired consistency. Return braising liquid to pan and boil until reduced and thickened. De-bone lamb and return lamb to reduced braising liquid to reheat and coat.
6) Serve it up! Make a bed of creamy mashed potatoes. Spoon braised lamb over potatoes. Garnish with spicy pepper condiment, cilantro and lime juice.

For added instruction, entertainment watch the Lamb and Potato Diablo Video.

Don't miss a video… SUBSCRIBE TO MY CHANNEL ON YOUTUBE!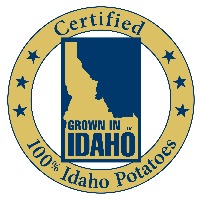 The Average Betty Test Kitchen developed this recipe and produced this video on behalf of the Mountain States Rosen Company, American Lamb Board and Idaho Potato Commission.
For more great recipes using American Lamb, check out the American Lamb and Mountain States Rosen websites.
For more great recipes using Idaho Potatoes, check out the Idaho Potato Commission Website.