Y
Click for printer-friendly version!
Huckleberry's Blueberry Bran Muffins are crazy good. Seriously. People get mad when Chef Zoe Nathan doesn't run them for a day at her restaurant, Huckleberry in Santa Monica, California. So you can imagine, these are pretty special muffins. In fact, I'd say, these are the best bran muffins I've ever had.
They're slightly sweet and maple in flavor. Their texture is substantial yet light. They're packed with blueberries, nutritious wheat germ and yogurt, so they not only taste great, they really are good for you. If you can't get to Huckleberry for the real deal, blow a kiss to Lucy Lean, author of Made in America, and preheat your oven.
Watch the How to Make Huckleberry's Blueberry Bran Muffin Video for added instruction and entertainment.
Ingredients for Huckleberry's Blueberry Bran Muffins:
8 tablespoons (1 stick) unsalted butter, melted and cooled
1/4 cup brown sugar, plus more for topping
1/2 teaspoon salt
1 large egg
1/4 cup maple syrup
1/4 cup honey
1/4 cup canola oil
1 cup all-purpose flour
1 cup wheat germ, lightly toasted
1 teaspoon baking soda
1 cup plain full-fat yogurt
2 cups blueberries

Notes: I substituted 1/2 cup buttermilk for the yogurt and omitted the canola oil. I used Bob's Red Mill Raw Wheat Germ, lightly toasted in the oven, 325(F) 8-10 minutes, and frozen blueberries. No baking time was mentioned in the recipe, so I went with 20-25 minutes. Watch the How to Make Huckleberry's Blueberry Bran Muffin Video for added instruction and entertainment.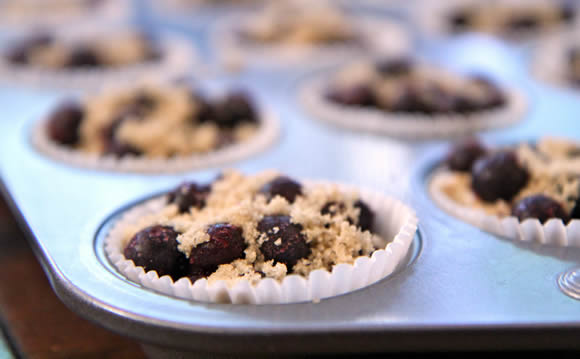 Directions:
1) Preheat the oven to 350(F).
2) Place cupcake liners in a 12 cup muffin pan.
3) In a large bowl, whisk by hand the butter, brown sugar and salt. Add the egg and whisk to combine.
4) Add the maple syrup, honey and canola oil. Whisk until emulsified.
5) Add the flour, wheat germ, baking soda and yogurt. Whisk together just until combined.
6) Fill the muffin cups about three-quarters full. Top with lots of fresh berries. Crumble a little brown sugar on top of the fruit.
7) Bake in the oven until the cake springs back and the tops are golden brown.

Share and Enjoy.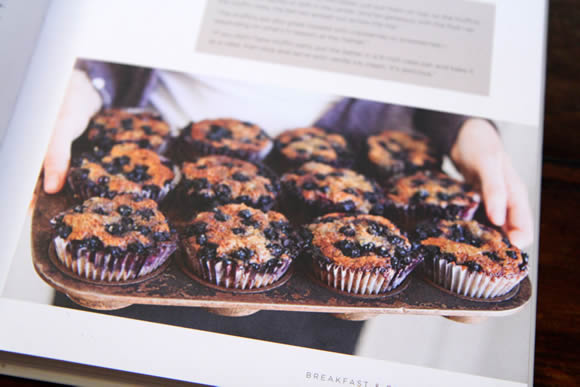 (I think Chef Zoe's look better than mine… whatever!)
Special thanks to Lucy Lean and Welcome Books; Chef Zoe Nathan and Huckleberry.