Y
Click for printer-friendly version!


Although no one likes to admit it, the holidays can be stressful. And nothing spreads a little holiday cheer like edible food humor. Well, besides brandy. And let's face it, after a year of food recalls, food safety bills, Food Revolution and Food Feuds, who doesn't need a little morale boost this holiday season? That's why my Cookie Ornament for 2010 is the Christmas Ham Even a Vegetarian Will Love.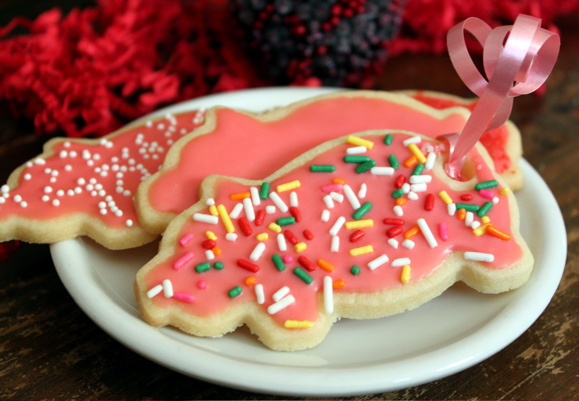 Sugar Cookie Ornaments can be used for gift tags on presents or simply piled high on a plate. You're only limited by your cookie cutter collection and imagination. A little curling ribbon for the pig tail gives an added touch of LOL and makes an interesting handle for these Christmas Hams. Trust me, everyone will pick them up this way.

If you have decorating skills that rival my Photoshop ability, you can customize your Christmas Hams with a cuts of meat chart or personalize them with your friends' names… just be warned — not everyone gets the humor in a pig with their name on it. At first.
This is my favorite Sugar Cookie Recipe. These cookies are substantial enough to hold their shape for decorative purposes, but soft and delicious enough to satisfy a real cookie craving! Makes three dozen cookies, depending on cookie cutter size.
Ingredients for Sugar Cookies:
3/4 cup (1 1/2 sticks) salted butter
3/4 cup granulated sugar
1/4 teaspoon salt
2 teaspoons vanilla
1 large egg
2 cups unbleached all-purpose flour
icing, colored decorating sugars
Icing/Glaze for One Dozen Sugar Cookies:
1/2 cup powdered sugar
1 tablespoon milk
DIRECTIONS:


Make the cookies. In an electric mixer cream butter and add sugar and salt. Add vanilla and egg. Add flour and mix. Gather dough and pat smooth. Cover and allow dough to chill for 1/2 hour in the freezer or 1 hour in the refrigerator. Lightly flour board and rolling pin. Roll out dough to 1/4 inch thick. Cut into shapes. Place cookies on baking sheet.

Make the ornament. Before baking, use a wide drinking straw and poke through the dough. Bake in a preheated 325(f) oven for 10-13 minutes. If using colored sugars, sprinkle with sugars before baking. Allow to cool before icing and decorating.

Make the icing and decorate. Combine powdered sugar and milk. Whisk until smooth. Set up time for icing varies but typically hardens in about two hours. For best results, icing should be set before tying ribbon. For a faster, easier process, do not use icing, rather use colored sugars before baking. For more detailed instructions and photographs check out the original Decorated Sugar Cookies Recipe.

NOTES: For best results, chill dough before rolling. Makes about 3 dozen cookies depending on cookie cutter size. Portion icing into small batches to mix different colors. Keep baked and decorated cookies fresh in an air-tight container at room temperature for up to one week. Cookie dough can be refrigerated for two weeks or frozen up to a month.
It isn't recommended that you decorate a tree with these ornaments for any period of time. If using as a gift tag, wrap in plastic or use clear treat bags.
Small children should not be left unattended with Cookie Ornaments. And really, when should small children be left unattended?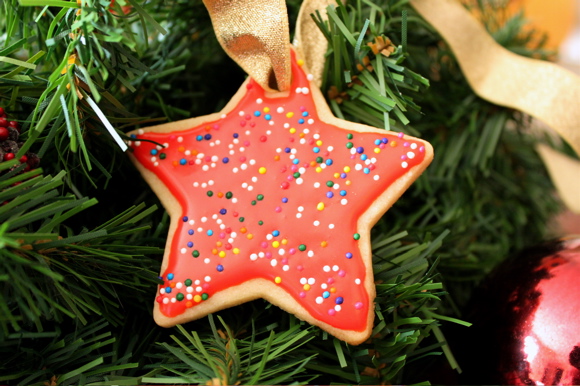 Search terms: how to make a christmas ornament, how to make an ornament, edible gift tags, holiday cookie recipe, fun party ideas, sugar cookie gift tags, food humor, funny sugar cookies, christmas ham even a vegetarian will eat, christmas ham sugar cookie, sugar cookie recipe, best sugar cookie recipe