Y
I know, I know. Horses don't lay eggs.
Well, neither do Roosters but that never stopped me.
Horseradish Deviled Eggs, or as they are affectionately called around here, Horse Eggs, are spicy with just a hint of sweet and salty. If that doesn't hit all your flavor receptors, check your pulse.
Get more INCREDIBLE EGG RECIPES this month with the Shine Supper Club!
CHECK IT OUT — HORSE EGGS are WINNERS!
Ingredients for Horse Eggs:
6 extra-large eggs
6 TBSP mayonnaise
4 teaspoons prepared horseradish (hot)
1 teaspoon orange blossom honey
1/8 teaspoon Aleppo pepper
1/4 teaspoon coarse salt
1 teaspoon finely chopped green onion
1 piece thick cut bacon, cooked and broken into 12 bits

NOTES:
Makes 12 Horse Eggs. All of theses ingredients are "to taste" but this is the combination that pleases my crowd. Aleppo pepper is most commonly used in Middle Eastern cuisine and has a moderate heat level with fruity characteristics and a mild cumin undertone. If you use fresh, grated horseradish, you may also need to use more mayonnaise. An extra pinch of coarse salt and Aleppo is used for garnish.
DIRECTIONS:
1) In a medium sized pot with a tight fitting lid, cover eggs with clean cold water.
2) Over high heat, bring to a gentle boil, uncovered.
3) When a gentle boil has been achieved, cover and turn the heat down to the lowest setting. Cook the eggs, covered, for 12 minutes.
4) Remove from heat and drain the hot water, replacing with cold water and a handful of ice cubes.
5) When eggs are cool enough to handle, peel and rinse clean. Pat dry.
6) Slice eggs in half, lengthwise, and remove the yolk from white. Place yolks into a bowl. Place whites on a serving dish and sprinkle with a pinch of coarse salt.
7) Mash yolks thoroughly, until a fine, grainy texture has been achieved.
8) Add the mayonnaise, horseradish, honey, Aleppo pepper and salt. Combine well, until a mostly smooth texture has been achieved.
9) Pipe or spoon yolk mixture into cavity of egg white halves.
10) Top each egg with finely chopped green onion and a bacon bit. If desired, add a pinch more Aleppo pepper for garnish.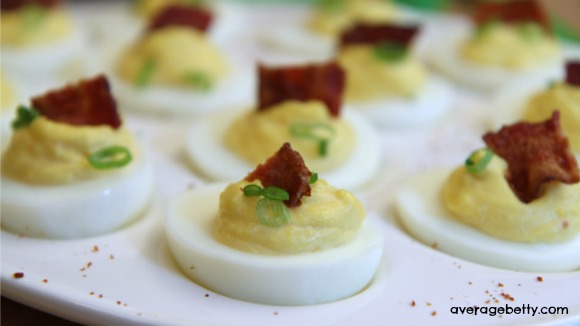 Get more INCREDIBLE EGG RECIPES this month with the Shine Supper Club!