Y
WATCH THE VIDEO!
Hash Brown Benedict is a twist on the traditional Eggs Benedict with Hollandaise Sauce. Taken to a whole 'nother level of indulgence with a crispy, golden Hash Brown instead of an English Muffin, this is a breakfast or brunch that is fit for royalty!

Ingredients for Idaho Hash Brown Benedict:
Crispy Idaho Hash Browns:
2 Idaho Russet Potatoes (small, 5-6 ounces each)
2 TBSP oil
salt and pepper (to taste)
Hollandaise Sauce:
2 egg yolks
6 TBSP butter
1 TBSP water
1-2 TBSP lemon juice
dash salt
dash hot sauce (like Tapatio, NOT Tobasco)
parsley for garnish, optional
Poached Eggs:
4 large eggs
1 TBSP clear vinegar, any variety
water for poaching
You will also need:
4 slices Canadian Bacon

NOTES:
Serves 2-4. Makes 4 Hash Brown Patties and about 1/2 cup Hollandaise Sauce, enough to top 4 eggs. Tobasco Sauce will over-power a delicate Hollandaise, I recommend a more subtle variety, like Tapatio. If you do not care to use hot sauce, a dash of cayenne pepper can be substituted. When making the Hash Browns, time is of the essence. If you must shred the potatoes and NOT get them directly into skillet for frying, rinse shredded potatoes with water to prevent from discoloring. Make sure excess water is squeezed out before placing into hot oil.
Directions for Hash Brown Benedict:
MAKE THE HASH BROWNS:
1) Peel and grate 2 small Idaho Russet Potatoes.
2) Working quickly, shape potato shreds into rounds.
3) Transfer shredded potato rounds to a medium-high, oiled skillet.
4) Season with salt (and pepper if desired) and cook until crisp and golden.
5) Keep warm in a 250(F) oven until ready to use.
MAKE THE HOLLANDAISE SAUCE:
1) In the top of a double boiler over medium heat, combine beaten egg yolks, water and 1 TBSP lemon juice.
2) Whisk together and begin adding butter a tablespoon or two at a time, whisking continuously. WARNING: If your heat is too high and you do not whisk vigorously you will scramble your eggs!
3) Continue whisking until all the butter is incorporated and mixture is thickened and smooth.
4) Remove from heat and finish with a dash of salt, 1 TBSP lemon juice and hot sauce.
5) Transfer to microwave safe bowl and set aside until ready to assemble.
BROWN THE CANADIAN BACON:
1) In a skillet over medium-high heat, brown Canadian Bacon on both sides until desired color.
2) Wrap in foil and place in 250(F) oven (with Hash Brown Patties) until ready to use.
POACH THE EGGS:
1) Fill a medium saucepan or tall-sided skillet with at least 3 inches of clean water.
2) Heat until simmering, but not boiling. Stir in 1 TBSP vinegar in a circular motion.
3) Crack fresh eggs into small bowls.
4) Gently slide eggs into water in a clockwise pattern.
5) With a slotted spoon carefully adjust eggs to ensure they are not sticking to the bottom of the pan.
6) Allow eggs to poach for 4-6 minutes, depending on how runny you like your eggs.
7) Remove eggs from water with a slotted spoon and drain on a paper towel.
ASSEMBLE THE HASH BROWN BENEDICT:
1) Remove crisp Hash Brown Patties and foil-wrapped Canadian Bacon from oven.
2) Place Hash Brown Patty on plate and top with Canadian Bacon.
3) Top Canadian Bacon with a poached egg.
4) Reheat Hollandaise Sauce in the microwave for TEN SECONDS. Stir and reheat for TEN SECONDS MORE. WARNING: Over-reheating the Hollandaise Sauce will cause it to separate. Use extreme care when reheating.
5) Spoon Hollandaise Sauce on top of poached egg.
6) Garnish with chopped parsley and serve immediately.
7) Share, enjoy and feel like royalty!

Never miss an instructional cooking video! SUBSCRIBE to my channel on YouTube.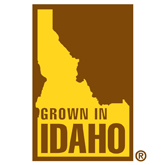 For more great recipes using Idaho Potatoes, check out the Idaho Potato Commission Website.