Y
Click for printer-friendly version!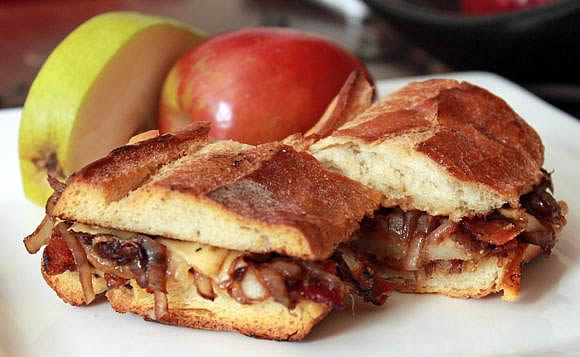 To round out National Grilled Cheese Sandwich Month, I present to you, the GBP. Not to be confused with GTL, the GBP is an indulgent combination of Old Amsterdam Aged Gouda, Bacon and Pear topped with Balsamic Onions and grilled into a succulent sandwich. The GBP makes a hearty lunch or conversation starting appetizer. To learn more about Old Amsterdam Aged Gouda, check out Gouda-ness Gracious!
Ingredients for Gouda, Bacon, Pear with Balsamic Onions Sandwich:
6 ounces thinly sliced Old Amsterdam Aged Gouda, or similar
1 sliced D'Anjou pear, or similar
6 pieces cooked bacon
1 large onion, sliced
2-3 tbsp balsamic vinegar
12″ baguette
1 tsp olive oil
salt & pepper to taste

Notes: Makes four 3″ (long) sandwiches or 12 (finger) sandwiches. If pear is unavailable, use apple. Amounts of ingredients vary depending on size and number of sandwiches desired; balanced proportions are key to a great tasting sandwich. Using a heavy pan or hand-held sandwich press will produce the perfect grilled, pressed and melted sandwich. Prepare all ingredients prior to building sandwich.
Directions:


Prepare the Balsamic Onions: Saute sliced onion in olive oil over medium-low heat until soft, 5-8 minutes. Add salt & pepper to taste. Deglaze pan with balsamic vinegar. Reduce heat to low and allow balsamic vinegar to absorb into onions, about 5 minutes.

Sear the Pear: Grill or sear sliced pears over medium-high heat, about 3 minutes a side.

Build the GBP: On section of bread, layer Old Amsterdam Aged Gouda, cooked bacon, Gouda, grilled pear, Gouda, balsamic onions, Gouda and the top piece of bread. Alternating between ingredients and Gouda ensures that your sandwich will be stuck together.

Cook the GBP: Grill or griddle over medium heat, pressing sandwich with heavy pan or sandwich press to flatten. Use caution when flipping the GBP. Cook until cheese is melted and sandwich is warmed through. Share and enjoy!


Check out the Old Amsterdam Website for more recipe inspiration and join them on Facebook for even more Gouda goodness.