Y
When life drives you bananas… make banana bread!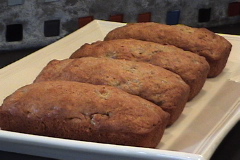 When your bananas look like this, it is time to make banana bread:
Average Betty's Going Bananas! Banana Bread
You will need two bowls.
Mash your bananas and 3/4 cup sugar in one bowl then add and combine:
1/4 cup canola oil
1 egg
1 tsp. pure vanilla extract
Combine all the dry ingredients in another bowl:
1 1/2 cups unbleached all-purpose flour
1 1/2 tsp baking powder
1/4 tsp baking soda
1/2 tsp ground cinnamon
1/4 tsp ground nutmeg
1/2 -3/4 cup chopped walnuts
Pour the wet into the dry.
Don't over mix. Fold.
I like to make four small loaves instead of one big one.
Spray canola oil on the bottom and 1/4 way up the sides of desired pan.
For small loaves, bake in a preheated 350 degree oven for 30-35 minutes.
For one big loaf, bake in a preheated 350 degree oven for 50-55 minutes.
We are lookin' for golden Betty, like the image below:
There are few smells better than baking banana bread.
There are few tastes more comforting.
Go bananas!
Link to the Going Bananas! video.