Y
Love me two times, baby!
Did you know that today, November 28th, is National French Toast Day? And it's really kinda sad because today is a Wednesday. Talk about greatness getting jipped. So, I'm personally declaring December, National French Toast Month and I'm gearing up for it right now.
Forget the Fruit Cake… It only makes sense that December should be dedicated to this sweet and easy breakfast treat. After all, cinnamon, spice and everything nice are the scents of the season! To get the celebration started, here are two of my favorite French Toast Recipes. Have a French Toast Recipe to share? Link to it in the comments!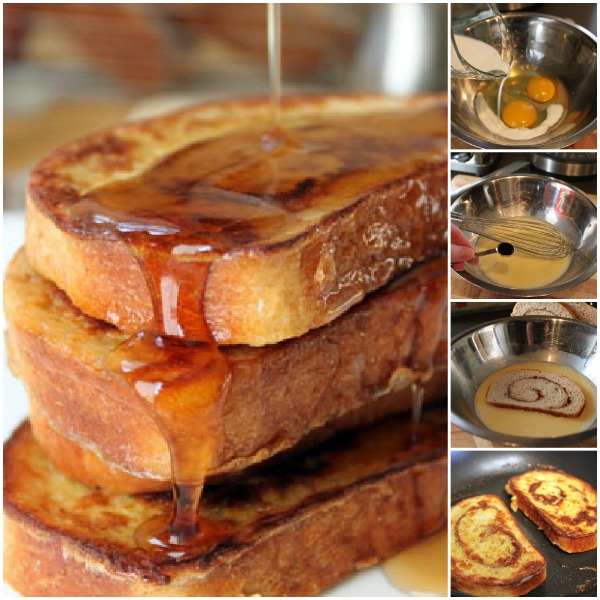 Ingredients for Cinnamon Swirl French Toast:
6 slices Cinnamon Swirl Bread (or similar)
2 large eggs
1/3 cup half-n-half or heavy cream
1/2 teaspoon vanilla
2 TBSP butter (plus more for serving)
maple syrup or other toppings
Directions for Cinnamon Swirl French Toast:
1) In a medium bowl large enough for bread slices to lay flat, beat eggs.
2) Whisk in half-n-half.
3) Stir in vanilla.
4) Soak bread slices in egg mixture until saturated.
5) Heat butter in skillet over medium heat.
6) Place saturated bread slices in skillet and cook over medium heat until golden, crisp and cooked through.
7) Serve piping hot with your favorite syrup and additional butter if desired.
NOTES:
If you are not using Cinnamon Swirl Bread, add 1/2 teaspoon cinnamon to egg mixture.
BREAKFAST FOR DESSERT!


It's not really a celebration without a party that lasts all day long! Try Adam Cho's Five Spice French Toast Recipe — for dessert! Decadent French Toast with thick-cut, chocolate covered bacon and ginger ice cream… breakfast isn't just for dinner anymore!