Y
WATCH THE VIDEO!
You've heard of the Everything Bagel? This is the Everything Cookie. With coconut, oats, chocolate, potato chips and even mashed potatoes (!) these cookies truly have EVERYTHING. Well, everything but GLUTEN!
Ingredients for Everything Cookies:
3/4 cup Idaho Mashed Potatoes, lightly packed
1/2 cup peanut butter
1 teaspoon vanilla
1 egg
1 cup sweetened shredded or flaked coconut
1 cup oats
2 TBSP dark chocolate unsweetened cocoa
1/2 teaspoon baking powder
1/2 cup brown sugar
1/2 cup white sugar
1/2 cup chocolate chunks or pieces
1/2 cup potato chip crumbs

NOTES:
Makes approximately 24 EVERYTHING Cookies. Watch the EVERYTHING Cookies Video to learn the perfect method for cooking and measuring the mashed potatoes.
Directions for EVERYTHING Cookies:
1) In medium mixing bowl combine oats, coconut, white sugar, brown sugar, baking powder and cocoa powder.
2) In another bowl combine mashed potatoes, peanut butter, beaten egg and vanilla.
3) Fold the oat mixture into the potato mixture.
4) Fold in chocolate chunks.
5) Drop by rounded tablespoons onto a lined baking sheet.
6) Crumbled potato chips on top of each cookie and bake in a preheated 350 (F) oven for 12 minutes.

For added instruction and entertainment, watch the EVERYTHING Cookies Video.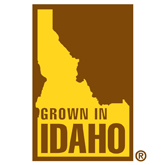 For more great recipes using Idaho Potatoes, check out the Idaho Potato Commission Website.

Don't miss a video… SUBSCRIBE TO MY CHANNEL ON YOUTUBE!