Y
WATCH THE VIDEO!
When I came across this very thorough article and recipe at The Kitchn for How to Make Mashed Potatoes in the Slow Cooker, you know me… I had to give it a try.
While I wouldn't say these are the easiest or the best mashed potatoes ever, they are really darn good.
And I can see how valuable this technique would be for a big dinner gathering, like Thanksgiving. Using the slow cooker saves room on the stove top and you don't have to worry about timing the potatoes at the last minute. You could start the potatoes in the slow cooker Thanksgiving morning, and when you're ready, they're ready.
And speaking of the holidays, making and serving Mashed Potatoes in the Crock Pot as a Mashed Potato Bar with all the toppings and trimmings would be the talk of any holiday party. Well, at least if you invited me.
Ingredients for Crock Pot Mashed Potatoes:
5 pounds Idaho Russet Potatoes
4 – 6 TBSP Country Crock Brand Buttery Spread
3 – 4 cups chicken broth
salt and pepper to taste
NOTES:
Serves 8-10. For added instruction, entertainment watch the Crock Pot Mashed Potatoes Video.
Directions for Crock Pot Mashed Potatoes:
1) Peel and chop Idaho Russet Potatoes into similar sized pieces.
2) Place potato pieces in crock of oiled slow cooker.
3) Pour about 1 1/2 cups chicken broth over potatoes. Put the lid on the slow cooker and set the temperature to High.
4) Cook 3-4 hours on High until potatoes are very tender.
5) Season with coarse salt and pepper to taste and mash.
6) Add more chicken broth and continue mashing.
7) Stir in Country Crock and enjoy!

For added instruction, entertainment watch the Crock Pot Mashed Potatoes Video.

Get more information on the Country Crock Buy, Get and Give Program at CountryCrock.com.

Don't miss a video… SUBSCRIBE TO MY CHANNEL ON YOUTUBE!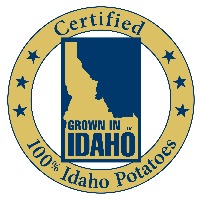 The Average Betty Test Kitchen developed this recipe and produced this video on behalf of the Idaho Potato Commission for the Idaho Potato Commission and Country Crock Brand.
For more great recipes using Idaho Potatoes, check out the Idaho Potato Commission Website.