Y
WATCH THE VIDEO!
One of the first meals a guy ever prepared for ME was Corned Beef Hash with a poached egg.
We were camping in Yosemite. He opened up a can of ready-made hash and poached a couple of eggs.
Sitting below the canopy of giant trees I swore it was the best thing I had ever eaten.
And he poached eggs! At altitude no less!
It was love.
And while I can't promise this Corned Beef Hash Recipe will make someone fall in love with you, I can practically guarantee a butt-kicking breakfast will be enjoyed by all.
Ingredients for Corned Beef Hash:
1 large Idaho Russet Potato, peeled & cut into small, pieces (about 2 cups) – OR – 2 cups leftover boiled or roasted potatoes
2 cups chopped/shredded, cooked and trimmed, corned beef
1/2 cup chopped onion
1 teaspoon fresh thyme leaves (optional)
olive oil
salt & pepper to taste
NOTES:
Serves 4-6. Best when served with an egg prepared to your liking. For added instruction and entertainment watch the Corned Beef Hash Video!

Directions for Corned Beef Hash:
1) Add potato pieces to medium-high, preheated skillet with a small amount of olive oil. Saute a few minutes, then add about 1/4 cup water to pan and cover. Allow to cook and simmer about 10 minutes, until potatoes are al dente.
2) To the potatoes, add corned beef and onion. Season with salt and pepper, if needed, and move around the pan, frying over medium high heat. Add fresh thyme to finish. Fry until desired crispiness.
3) Serve hot and crisp with poached eggs and buttery English muffins.

For added instruction and entertainment watch the Corned Beef Hash Video!

Don't miss a video… SUBSCRIBE TO MY CHANNEL ON YOUTUBE!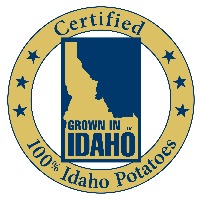 The Average Betty Test Kitchen developed this recipe and produced this video on behalf of the Idaho Potato Commission.
For more great recipes using Idaho Potatoes, check out the Idaho Potato Commission Website.