Y
Click here for printer-friendly recipe!
Win the Shangri La Tea Giveaway! Enter to win here.


Get your rub on! This flavor-packed Shangri La Chai Tea Rub is delicious on grilled steak, shrimp, chicken and pork, too. Enter the Shangri La Tea Giveaway!

And with just a kick of heat, the Chai Tea Dressing goes from Spinach Salad to hipster Street Taco in a flash!
Ingredients for Chai Tea Rub:
1 Shangri La Chai Tea Sachet
1/2 tsp ground curry
1/2 tsp tandoori spice blend (cardamon, chili, cinnamon, cloves, coriander, cumin, ginger)
1/2 tsp garlic powder
1/4 tsp coarse salt (I used Pink Himalayan)
1/4 tsp freshly ground black pepper
NOTE: Makes one heaping tablespoon rub, enough for one pound meat.
Ingredients for Spicy Chai Tea Dressing:
2 tbsp sour cream
2 tbsp mayonnaise
1 tbsp strongly brewed Shangri La Chai Tea
1 tsp Sriracha hot sauce
salt to taste
NOTE: Makes about 1/2 cup dressing.
Stop! Crush! Rub!


Notice the enticing blend of tea and spices in the Shangri La Chai Tea? For the rub, if you have a mortar and pestle, use it! Cut open tea sachet and empty contents into mortar, crush to a fine powder with pestle.

If you don't have a mortar and pestle, place tea sachet (still in its outer packaging) on a hard surface and use a rolling pin to crush the contents to a fine powder. Rotate and flip tea package frequently, and roll for a minute or two.

Open outer packaging, cut open tea sachet and pour crushed tea into a small mixing bowl.

Add curry powder, tandoori spice, garlic, salt and pepper to tea and combine.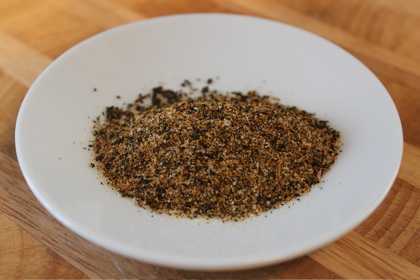 Rub-o-licious!
MASSAGE TIME!


To prepare steaks, drizzle with olive oil and massage. Yeah, I could use a massage…

Sprinkle Chai Tea Rub onto steaks, coating both sides.

Allow to rest at room temperature until rub has moistened. Look at all that tea!
QUICK! GET DRESSED!


To make the Spicy Chai Tea Dressing, begin by steeping one Shangri La Chai Tea sachet in 6 ounces of hot water. This will create a dark, strong tea. Allow to steep until completely cooled for most intense flavor.

In a mixing bowl combine sour cream, mayonnaise, brewed Chai tea and Sriracha.

Mix well. Correct for desired consistency. Keep refrigerated.
LET'S GRILL!


Grill steaks to desired temperature. Allow steaks to rest before slicing.
DID SOMEONE SAY, "SPINACH SALAD?"


For the Spinach Salad, grill desired vegetables such as mushrooms, bell peppers, onions and garlic. But, it's your salad… use different veggies prepared as you wish. It's fine by me :)

Toss clean, fresh spinach leaves with Spicy Chai Tea Dressing. Plate spinach and top with sliced steak and veggies. Dig in!
DID SOMEONE SAY, "STREET TACOS?"


Toss clean, chopped cabbage with Spicy Chai Tea Dressing. Top warm corn tortilla with chopped steak, slaw and anything else you'd like to pile on. Serve with extra dressing and Sriracha and get on down the road…
Average Betty was commissioned by the Shangri La Tea Company for this recipe and accompanying giveaway.

Search terms: shangri la tea, shangri-la teas, chai tea, tea sachet, chai tea rub, chai tea rubbed steak recipe, chai tea dressing recipe, sriracha recipes
MORE RECIPES WITH CHAI TEA!
Click an image to get the recipe…
Did you know my classic Peanut Sauce Recipe uses brewed Chai Tea?

Chicken Satay

Thai-Mexican Rolls
RECIPES TO ENJOY WITH TEA!
Click an image to get the recipe…

Buttermilk Blueberry Scones

Whole Wheat Buttermilk Biscuits

White Choc Mac Nut Cookies

Gingerbread Cookies
Link to the Shangri La Tea Giveaway! blog post.