Y
WATCH THE VIDEO!
Is this authentic Fried Rice? It's authentically Californian!
I learned how to make Fried Rice by watching the chefs at a Japanese Steak House in Encino, California. Don't judge… you'll love this rice!
Ingredients for California Fried Rice:
3 cups cooked and refrigerated white rice
1 green onion, diced
1/2 cup white onion, chopped
1/2 cup carrot, diced
2 eggs
1 TBSP butter
2-3 cloves garlic, minced
1 cup cooked edamame
soy sauce (to taste)
canola oil
salt & pepper
NOTES:
One cup uncooked rice prepares 3 cups cooked rice. Cold (or leftover) rice works best for fried rice. Add cooked chicken, shrimp or pineapple to mix things up! For added instruction and entertainment, watch the video.
Directions for California Fried Rice:
1) Prepare one cup white rice. Allow cooked rice to chill in the refrigerator.
2) Saute white onion and carrot over medium heat (in your biggest, flattest skillet) with a dash of salt and a crack of pepper in a teaspoon of canola oil until tender. Move to the side of pan.
3) Crack eggs into one half of pan. Start with a fry and end with a scramble.
4) Combine scrambled eggs and veggies.
5) Move scrambled eggs and veggies to side of pan and add rice.
6) Over medium-high heat, combine rice and egg mixture.
7) Drizzle soy sauce over frying rice.
8) Add green onion, edamame and garlic.
9) Toss again and finish with sesame seeds.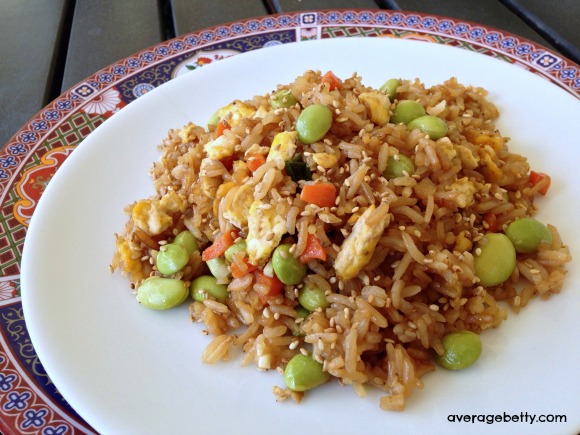 For added instruction and entertainment, watch the California Fried Rice Video.

Don't miss a video… SUBSCRIBE TO MY CHANNEL ON YOUTUBE!