Y
I don't know how to say this, so I'm just going to put it out there.
This California Avocado Flatbread is luscious.
And you might not think luscious is an appropriate adjective to describe bread.
Especially Flatbread.
That's why you have to try this California Avocado Flatbread.
Because there's a whole, ripe California Avocado kneaded right in to the dough.
And that's what makes it so luscious.
Ingredients for California Avocado Flatbread:
1 medium ripe California Avocado, mashed
2 teaspoons yeast
1 teaspoon light brown sugar
2 teaspoons coarse salt
1 1/2 cups heated water
4 – 5 cups unbleached, all-purpose flour (or other flour of your choosing)
about 2 TBSP olive oil
NOTES:
Makes eight 6 inch flatbreads. This flatbread can be topped like pizza or enjoyed all alone. Consider adding different spices and seasonings to the flatbread to compliment the luscious California Avocado flavor and feel.
Directions for California Avocado Flatbread:
1) Heat water to about 125(F).
2) Add brown sugar to the bowl of the electric mixer and dissolve with heated water.
3) Sprinkle in yeast and allow to rest for about 5 minutes or until yeast has bloomed.
4) Turn the mixer on low and begin adding flour 1/2 cup at a time until a loose batter forms.
5) Add mashed avocado and combine well.
6) Continue adding flour until a soft yet firm, slightly sticky dough forms.
7) Add salt and continue kneading and dusting with flour until the dough can be shaped into a ball.
8) Place dough ball into oiled bowl and cover with plastic wrap, then with a towel.
9) Allow the dough to rise until doubled in size, about an hour.
10) Punch down, knead back into a ball, cover and allow to rise again, about 45 minutes.
11) Punch down and roll out flatbreads with flour.
12) Pierce rolled out dough with a fork and place on a hot grill.
13) Flip flatbread and top like a pizza (if desired) or enjoy plain.
14) Grill or griddle flatbread about 5 minutes a side until cooked through, golden and crisp.
Serving Suggestions for California Avocado Flatbread:A favorite way to top this Flatbread is Mozzarella and Prosciutto with California Avocado and Balsamic Arugula Salad (bottom). A classic is Brie, Sundried Tomato and California Avocado (top).
Here are some other great recipes featuring California Avocados:
The Triple 'B' Avocado Tomato Summer Salad
Healthy Breakfast Burrito with Avocado & Chipotle Yogurt
Asian Fruit Salad with California Avocados
CopyCat California A.M. Crunchwrap
California Avocado and Bay Shrimp Sliders with Spicy Mayo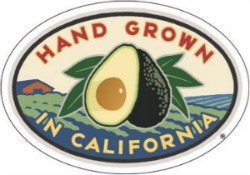 The Average Betty Test Kitchen developed this recipe on behalf of the California Avocado Commission.
Nutrient dense California Avocados provide nearly 20 essential nutrients, including fiber, potassium, Vitamin E, B-vitamins and folic acid and enable the body to absorb more fat-soluble nutrients.
For more great recipes using California Avocados, check out the California Avocado Commission Commission Website.

Don't miss a video… SUBSCRIBE TO MY CHANNEL ON YOUTUBE!