Y
Click for printer-friendly version!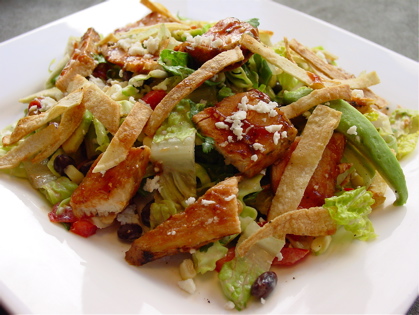 Mighty Salad: BBQ Chicken Salad! It has the strength and the muscle to satisfy hearty appetites!
Ingredients for Mighty Salad:


The Salad:
5 cups chopped romaine lettuce (1 head)
1 cup shredded cabbage
2 grilled chicken breasts
1/2 cup diced red bell peppers
1/2 cup corn kernels
1/2 cup drained black beans
1/2 cup chopped tomatoes
1/4 cup chopped green onion
1/4 cup chopped cilantro leaves
The Dressing:
(light) ranch dressing
dijon mustard
balsamic vinegar

The Garnish:
4 corn tortillas
cotija cheese
bbq sauce
avocado
It's crunch time!

Preheat oven to 325(F).
Using a pizza cutter, slice corn tortillas into thin strips.

Lay strips on a baking sheet and spray with canola oil. For best results, bake in a single layer.
Sprinkle with salt and bake for 18-20 minutes, until crisp.

Wash and chop salad ingredients.

Toss grilled chicken with barbecue sauce. If making individual entree salads, leave the chicken in larger pieces. If serving family style, cut the chicken into smaller, bite-size pieces. Consider shredding the chicken too.

In a large bowl combine lettuce and cabbage, red bell pepper, green onion, corn, tomato, black beans and cilantro.

In another bowl combine light ranch dressing, a dash of dijon mustard, a splash of balsamic vinegar. Stir together.

Pour dressing over salad mixture and toss.

Plate up salad and top with a crack of pepper, crumbled cotija cheese, tortilla strips, chicken and avocado. If serving family style, add pepper, crumbled cotija cheese, bite-sized chicken pieces and tortilla strips and lightly toss into salad. Makes 3-4 entree salads or 6-8 side salad servings.

Search terms: betty #39, betty mays, barbecue chicken salad recipe, bbq chicken salad recipe, salad like cpk, salad like california pizza kitchen, easy chicken salad recipe, baked tortilla strip recipe, mighty salad recipe
Link to the Mighty Salad video.
Link to the accompanying Mighty Salad blog post.