Y
Click for printer-friendly version!


From Barbara Fairchild's new cookbook, Bon Appetit Desserts comes this Layered Peppermint Crunch Bark Recipe. This bark features white chocolate, bittersweet chocolate, and peppermint candies— perfect for the holidays.
Ingredients for Layered Peppermint Crunch Bark :
17 ounces high-quality white chocolate (such as Lindt or Perugina), chopped
30 red-and-white-striped hard peppermint candies, coarsely crushed (about 6 ounces), divided
7 ounces bittersweet or semisweet chocolate (do not exceed 61% cacao), chopped
6 tablespoons heavy whipping cream
3/4 teaspoon peppermint extract
NOTES: Makes 36 pieces. To crush the candies, place them in a resealable plastic bag and tap them firmly with a rolling pin. Can be made 2 weeks ahead. Refrigerate in airtight container. Let stand 15 minutes at room temperature before serving.
TIP: To keep the white chocolate layer from remelting when you add the bittersweet chocolate, pour out the bittersweet chocolate mixture in three thick lines down the length of the baking sheet. This speeds up the spreading so that there isn't time for the white chocolate to melt.

DIRECTIONS:
Turn large baking sheet bottom side up. Cover tightly with aluminum foil. Mark 12×9-inch rectangle on foil. Stir white chocolate in medium metal bowl set over saucepan of barely simmering water until chocolate is melted and smooth and candy thermometer registers 110°F (chocolate will feel warm). Remove bowl from over water. Pour 2⁄3 cup melted white chocolate onto rectangle on foil. Using icing spatula, spread chocolate to fill rectangle. Sprinkle with 1⁄4 cup crushed candies. Chill until set, about 15 minutes.
Stir bittersweet chocolate, cream, and peppermint extract in heavy medium saucepan over medium-low heat until just melted and smooth. Cool to barely lukewarm, about 5 minutes. Pour bittersweet chocolate mixture in long lines over white chocolate rectangle. Using offset spatula, spread bittersweet chocolate in even layer. Refrigerate until very cold and firm, about 25 minutes.
Rewarm remaining white chocolate in bowl set over barely simmering water to 110°F. Working quickly, pour white chocolate over firm bittersweet chocolate layer [1]; spread to cover [2]. Immediately sprinkle with remaining crushed candies [3]. Chill just until firm, about 20 minutes.
Lift foil with bark onto work surface; trim edges. Cut bark crosswise into 2-inch-wide strips. Using metal spatula, slide bark off foil and onto work surface. Cut each strip crosswise into 3 sections and each section diagonally into 2 triangles.
ABOUT THE COOKBOOK: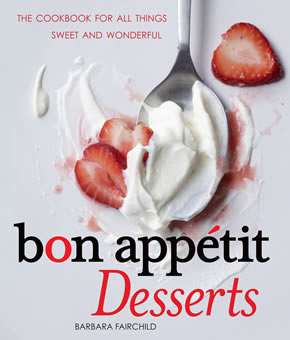 Bits of history, pragmatic tips, easy-to-follow recipes and of course, mouth-watering desserts ooze from the pages of Bon Appetit Desserts.
If you love making desserts, you'll love them even more with the knowledge that Barabara Fairchild imparts in Bon Appetit Desserts.
Photos and Recipes From Bon Appétit Desserts by Barbara Fairchild/Andrews McMeel Publishing. Watch the Video Trailer for Bon Appétit Desserts.