Y
You don't have to make these Microwave Mug Mashed Potatoes in an actual mug.
Any microwave safe container will do.
But when you're sitting on the couch wrapped in a mermaid tail blanket, binge watching Netflix and eating microwave mashed potatoes… the handle is a nice feature.
Ingredients for Microwave Mug Mashed Potatoes:
1 10-12 ounce Idaho Burbank Russet
salt
toppings of your choice
NOTES:
Serves 1. Watch the Microwave Mug Mashed Potatoes Video for added instruction, entertainment and mix-in ideas. There may also be singing.
Directions for Microwave Mug Mashed Potatoes:
1) Clean and/or peel potato and slice into similar sized pieces.
2) Place potato pieces into microwave safe mug or similar container.
3) Cover potato pieces with water.
4) Place a piece of plastic wrap on top of the mug and leave a side vented.
5) Microwave 2-3 minutes in 1 minute increments until potato pieces are tender.
6) Drain cooking water and season with salt.
7) Mash and enjoy as is, or dress up however you love mashed potatoes.

Don't miss a video… SUBSCRIBE TO MY CHANNEL ON YOUTUBE!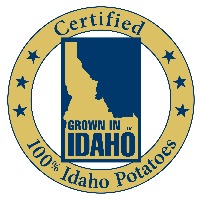 Average Betty and the Idaho Potato Commission have been partners in bringing you video recipes since 2011.
The Average Betty Test Kitchen developed this recipe and produced this video on behalf of the Idaho Potato Commission.
For more great recipes using Idaho Potatoes, check out the Idaho Potato Commission Website.