Y
It's autumn and that means pumpkin spice season is in full swing.
It also means that Time is at an ever growing premium, and "sure things" are key to avoiding Orange Overload.
This Pumpkin Bread Recipe from the Monastery of the Angels in Los Angeles is one of those sure things.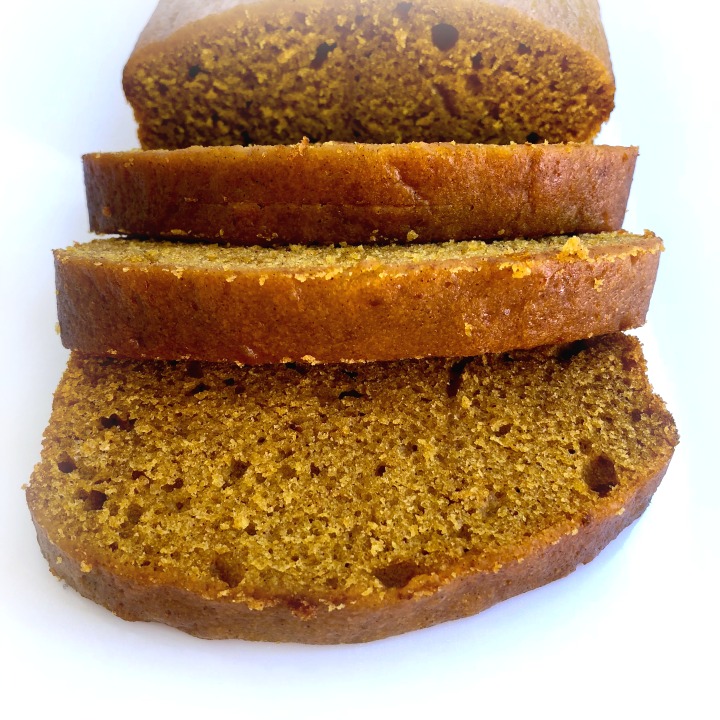 The original publication of the recipe comes from the epic LA Times recipe database in the form of a culinary SOS. I've made a few minor adjustments, but the formula is all the sisters.
Pumpkin pie spice instead of nutmeg is nice for the added clove and cardamom flavors.
NOTES: Makes 3 loaves, 12 mini loaves, 1 – 9×13″ pan (ideal for frosting like a cake) or 36 muffins / cupcakes. For further instruction and entertainment, watch the Hollywood Monastery of the Angels Pumpkin Bread Recipe Video on YouTube!
Ingredients for Pumpkin Bread:
3 1/2 cups flour
3 cups sugar
2 teaspoons baking soda
1 teaspoon cinnamon
1 teaspoon pumpkin pie spice
1 teaspoon vanilla
1 1/2 teaspoons coarse salt
4 large eggs, beaten
3/4 cup oil
2/3 cup water
2 cups canned pumpkin
Directions:
1) Thoroughly combine pumpkin, eggs, water and oil.
2) In another bowl combine flour, sugar, soda, cinnamon, pumpkin pie spice and salt.
3) Make a well in the center of the dry ingredients and pour in the pumpkin mixture.
4) Gently fold the dry ingredients into the wet.
5) Add vanilla and say your prayers.
6) Equally distribute batter into 3 greased loaf pans.
7) Bake at 350(F) for 40-50 minutes or until golden, and a wood pick inserted in center comes out clean.
** Bake at 350(F) for 12 mini loaves (20-30 minutes), 9×13″ pan (30-35 minutes), 36 muffins (15-20 minutes)**
DON'T FORGET TO SUBSCRIBE… IT'S FREE!
Learn how to make Hollywood Monastery of the Angels Pumpkin Bread. Watch the video on YouTube and subscribe!

Don't miss a video… SUBSCRIBE TO MY CHANNEL ON YOUTUBE!
SEE STUFF ON THE SHOW YOU LIKE?
Average Betty is an Amazon Influencer!
Have you ever been watching the show and you see a gadget and wonder where I got it? Or what about that cute necklace I'm wearing? Chances are it's from Amazon… Now you can shop for the stuff I use on the show and at home. Life may never be the same again!
Please, check out my Amazon shop :)
#ad #amazon #influencer #thankyou