Y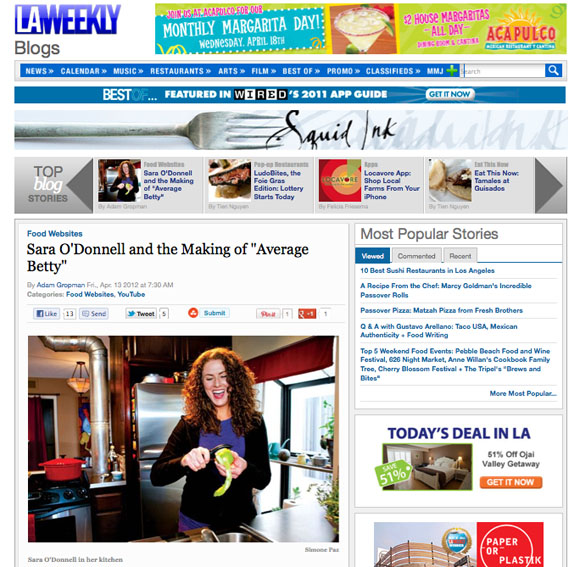 Today is Friday the 13th. Usually that means something bad might happen.
But not today. Today something very awesome happened. Thank you, Adam Gropman and LA Weekly for illustrating such a vivid picture of my career and life's work up until now.
When I started Average Betty, even with all the costumes and silliness, I was hiding a side of myself. Even though I was out, and all over the internet, there were details that stayed hidden. The past. The journey. The hard work. Adam, your carefully crafted article made me believe in myself and my mission even more. Thank you.
Thank you, Simone Paz for putting me at ease and taking such a happy photo of me. No one should really have that much fun peeling an apple. Sometimes, I just can't stop smiling. The day you came over was one of those days. And oh yeah, today is too. Thank you.
Thank you Austin Lau, Bryan Caroll, Matt McLernon and Mark Day at YouTube, all of my fellow YouTube Next Chefs, Idaho Potato Commission, Federated Media, Babble's Family Kitchen and Farmer John for believing in Average Betty.
And last but certainly not least, thank you, Lee O'Donnell… my hot husband and co-producer. Sorry for going on record that you're a picky eater. But, c'mon. Who doesn't love raisins?!?
Read the complete article, Sara O'Donnell and the Making of 'Average Betty'.