Y
I have mentioned before that social media can be anti-social.
Let's face it, I haven't been to a lot of events… or restaurants… or parties… or anywhere lately. I probably need some socializing!
And a Famous Idaho Potato Party? Somebody, get me a baby sitter!
Judy Lyness of Two Broads Abroad and Erika Kerekes of In Erika's Kitchen and Trufflepalooza fame, hosted a toast to all things tuber with #PotatoPalooza 2014.

It's not my fault I couldn't Instagram all of the spudliciousness at #Potatopalooza as it was happening (like the Fingerling Potatoes with Salmon Mousse above). I was reconnecting with all the FBLA members I haven't seen in months.
What I was missing in hashtag fun, and using made-up words like spudliciouness, I made up for in actual face time with the actual food friends I interact with, mostly online.

As luck would have it, I can share my #Potatopalooza experience and share some link love with my food blogging friends at the same time.
The Cream of Potato and Poblano Soup (above) was my favorite of the dozen or so dishes Kerekes and Lyness served up. Grandma Rose's Potato Blintzes, a close second.
Following are links to recaps and other recipes featured at #Potatpalooza, and also some great food blogs to check out!
PotatoPalooza!
Be Mine: Fingerling Potatoes with Salmon Mousse
Potato Palooza and Kale Pesto Potato Lasagna
Heart Shaped Potato Chips
Potato Palooza 2014
Idaho Potato Mini Lasagnas with Pesto and Kale and a Blogger Success Story
Maple Miso Roasted Fingerlings and Potatopalooza at the Kerekes Home
Scottish Macaroon Bars and Idaho Potato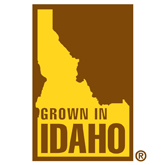 Special thanks to the Idaho Potato Commission for sponsoring fun activities like #PotatoPalooza so bloggers with a shared love of spuds can connect irl!
For more great recipes using Idaho Potatoes, check out the Idaho Potato Commission Website.