Y
Leave a comment.


If you're following the 2009 NBA playoffs, then you might know all but two of the teams have Gone Fishin'. Ironically, more Americans are literally going fishing for their summer vacations this year. Good news for Power Bait; bad news for Disney World.
If you're not familiar with the term Gone Fishin' in basketball, it's the catch phrase of the award-winning Inside the NBA on TNT featuring Charles Barkley. When a team gets knocked-out of the playoffs, Inside the NBA breaks out the fishing hats and poles and declares the eliminated team as "Gone Fishin'."
So, as Betty gears up for summer, she's feeling more like a Crispy Fishin' Trip than an equilibrium-busting ride on the Mad Tea Party, especially if Crispy Fish with Mango Slaw is served! It's the perfect catch to take you to a fish-lover's paradise, whether you're on a boat or merely deemed Gone Fishin' by Ernie, Kenny and Charles.
Link to the Crispy Fish with Mango Slaw recipe.
WHAT'S BETTY UP TO?


Thanks to Cookshow, Betty is in for a weekend of luxury at the Huntington Hotel & Spa. Betty will be meeting up with famed Chef Gloria Ciccarone-Nehls of the Big 4 Restaurant and learning all about Lamb Burgers. What other adventures will Betty cook up in the streets of San Francisco? You can bet seafood will be involved!
FOLLOW AVERAGE BETTY ON TWITTER!


Keep up with Average Betty on Twitter! Find out what she's cooking and unboxing and everything in between.
AVERAGE BETTY SIGHTINGS


Betty's White Chocolate Macadamia Nut Cookies got some lovin' from the Photograzing oven! Thanks, Photograzing! And Charlie the Unicorn Part 3 is giving Betty the Unicorn Fritter new legs on YouTube! The haters just can't get enough of it! But even if you don't a) like the video, b) understand the parody or c) read in the description that it's an homage to Charlie the Unicorn, Betty guarantees you'll love her Savory Corn Fritters! Try them tonight with Grilled Shrimp, Black Beans and Mashed Avocado!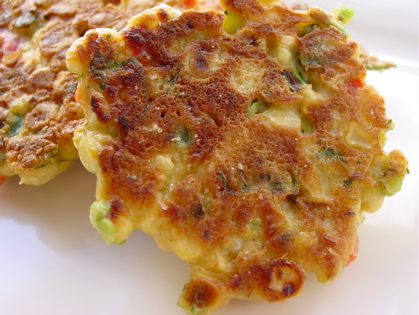 Link to the Savory Corn Fritters recipe.

Click for printer-friendly version!
Link to the Betty the Unicorn Fritter video.
Link to the accompanying Betty the Unicorn Fritter blog post.