Y

Summer's in full swing, and whether you're a kid or an adult, you're looking forward to one thing: Summer camp! That's right kids, a sleepless week in a musty cabin bonding with nature and being eaten alive by mosquitoes. What fun!
But what does Summer camp possibly have to offer adults? How about a week of peace, relaxation and culinary bliss! That's right adults, time to fill up on all those flavorful meals you sacrifice when the kids are around because they "don't like fish" or "it's too spicy."
These days there are as many Summer camps as there are food contamination outbreaks, so which camp should you send your kids? Dance Camp? Fashion Camp? Not even. Send them to Fish Camp! Camp Counselor Betty's waiting to start them on a strict regimen that will force them to love fish. And when the kids return home, you can finally serve up that delicious grilled halibut with roasted pepper aioli without all the whining and complaining.
Will Camp Counselor Betty be able to get through to Schoolgirl Betty and force her to love fish? Check out Fish Camp to find out for yourself!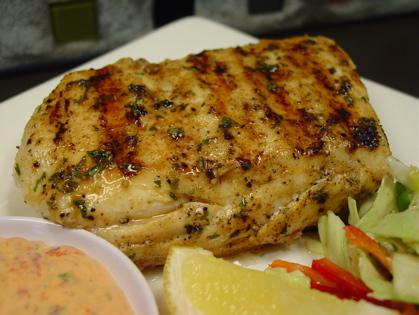 Link to the Grilled Fish with Roasted Red Peppper Aioli recipe.

Click for printer-friendly version!
Link to the Fish Camp video.
SPECIAL THANKS to all of Betty's nieces and nephews who inspired this episode. Fortunately, they are attending Musical Theater Camp and Junior Lifeguards this summer… not Fish Camp!
BIGTIME BETTY NEWS! Betty loves the iTunes Store! Average Betty is featured in the latest iTunes Podcast Spotlight, "Living Recipes," along side one of Betty's favorite food podcasts, New York Times "The Minimalist.". What an honor and great opportunity! iTunes followed up the Podcast Spotlight with a special "Living Recipes" section on the front page of the iTunes Store Podcasts section. The result has been a Top 10 slot for Average Betty in the iTunes Food Top 100 for the last week, and a bunch of new subscribers! If you happen to be one of the new subscribers, hey there! Please write me a note and tell me a little about yourself and what you think of Average Betty. Thank you, iTunes… Betty loves you!
What's Betty watching? Well, besides Yahoo! Video… National Banana! Okay, if you haven't noticed yet, Betty's a fan of Airplane and Jerry Zucker, the man behind National Banana. The humor is a bit irreverent, and I have read at least one bad review, but who reads reviews anyway? National Banana makes me laugh and that's what matters to me. The site showcases a handful of serial, short-format comedies, which is cool because it's a lineup of shows rather than a collection of unrelated videos. If you haven't checked out National Banana yet, you gotta check it out!
If you're looking for a cool new way to watch video on your slick mobile phone, then you gotta check out Zannel! Maybe you just got a sweet new iPhone and you want to watch more videos on it… check out Zannel! It's still in beta, so click on over to get your user name before you're stuck with something like "frenchfryguy2007." Seriously, whether you're looking for the newest technology to watch video on your mobile device, or you're a content creator looking for a fresh place to post your vids, check out Zannel!
Looking for recipes? Check out Recipe Voice! It's a great collection of cooking videos and Betty is honored to be included… thanks, Recipe Voice!
Online Cooking.net is a great resource for cooks and has everything from expert columnists and food recalls to recipes and games. They have a directory of cooking shows and Average Betty tops the list! OK, it's alphabetical… but Betty just loves the show description they gave her: "A Debra Harry meets Julia Childs type of show." Rock on!
Average Betty is coming to iFood.tv! iFood.tv is a video community for food lovers to create and connect through food. Connect with Betty on iFood.tv!
COOL VIEWER SHOUT-OUTS! Betty thanks all of the super cool people that watch, vote and comment on her vids, especially those that email to give feedback and keep in touch! And all this Summer camp talk has Betty thinking about Silver and Gold. Average Betty's makin' new friends (and so is Emo Betty!). A Big Betty welcome to ji, Norm, Dan X, Erroll, N Tony, Daryl G and the lovely ladies of ShowMeTheCurry, Hetal & Anuja!
Janet C stopped by to tell Betty, the Chicken Curry Pita "looks delicious!! [I'm] always looking for new chicken recipes and this is a keeper! So many ways to change and use these same ingreds too! My 8 yr old loves anything he can "dip" into and it's the only way he eats any veggies! Thanks!" Well, thank you Janet – I hope you and your son like the pita!"
Raven wrote, "Average Betty, I tried your Big Dance BBQ pizza. God bless you! That dish was the best I've ever had!!!" Awesome, Raven! That comment was the best I've ever had!
Betty has heard from a few married couples lately and that's just plain HOT! Sergio wrote to say, "…Cookie sundaes have saved my marriage!! My wife loved them so much she's willing to overlook a number of my shortcomings if I promise to make them regularly for her ( I must admit, I like them a lot too!!)." Sergio also hooked Betty up by leaving that comment on her iTunes page – totally sweet! Thank you Sergio and your lovely wife!
Adam & Steph dropped by to let Betty know they made SuperRolls "for a small get together and everyone loved them! We really enjoy your website. My hubby and I say 'let's watch some Betty tonight' and try some of [her] other recipes. Thanks, and keep'em coming!" You can count on it, you lovebirds!
Paul & Diane E, a very creative couple write to say they have "a good time in the kitchen… cannot wait to see the bloopers/outtakes production. I'm sure your other avid followers will enjoy them just the same." Hmmm… all of Betty's shortcomings? Plenty of material there!
And Betty's keepin' the old…
Nate, a hot-tubbin' buddy Betty met in Vegas when she slid the slide, rode the bull and swam with the sharks is an awesome guy who has tried The Perfect Shrimp??? and says Betty's "fun to watch and the recipes I've tried were ass-kickn' good." That's a pretty nice compliment coming from an ass-kicker like Nate! Muwah!
Russ the MacGeekGuy is the total bomb! Seriously. Russ has written to Betty since day one and provided the support and encouragement she needed during the times it seemed like nobody was watching! Thanks, Russ… it's always great to hear from you and yours!
And last, but certainly not least, Betty's fasterponyride, Anna G! Always awesome, positive, smiling and laughing. Thanks for all the love and support. You don't know how much it means to lil' ol' Betty. Betty loves you, fasterponyride!
Thanks for watching!