Y
Are you a double-dipper? Leave a comment.


I think we can all agree that double-dipping is a serious party foul. Surely you've witnessed the guy at the party grazing away at the snack table, double-dipping anything and everything in the Ranch. It seems every party has one of these guys that "didn't get the memo" about double-dipping, which is precisely why I avoid dips at parties.

Fortunately, that's not the double-dipping I'm talking about. I'm talking about something good! I'm talking about a dip that does double-duty.
My friend, Christine H, introduced me to a delicious Sichuan Dipping Sauce that she uses as the "landing bowl" for Hot Pot; it's the pefect complement to those spicy hot pot flavors. And here's the double-duty: It's also a great dipping sauce for dumplings and pot stickers! See? That's the good kind of Double-Dipping!
I've come to terms that I'm addicted to this wonderful dipping sauce. So, I'm sharing the recipe with you in hopes that you'll become addicted, too, and we can keep each other company in Sichuan Dipping Sauce Rehab.
Sure, you can call me an enabler if you like, but this dipping sauce is worth the risk. Worst case is I'll see you in rehab!
Link to the Spicy Asian Dipping Sauce recipe.

I enjoy this Spicy Asian Dipping Sauce with dumplings, as a dressing for slaw, spooned over meat or fish, and as an accent to noodles. It's that good.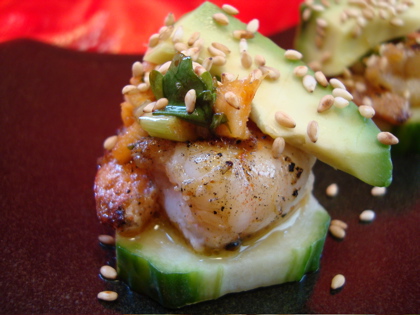 I also discovered this wonderful sauce turns The Perfect Shrimp??? into More Perfecter Shrimp!
Do you have a sauce recipe that you use in more than one dish? Are you a double-dipper? Leave a comment.