Y
Feast your eyes on the Harissa Veal Meatball Fruit Kabobs with Greek Yogurt Mint Sauce and Goat Cheese above. Not only do they look mouth-watering, those skewers are worth more than their weight in gold. $25,000 to be exact.
Celebrity Chef Ben Ford and a panel of distinguished tasters crowned Alice D'Antoni Phillips from Murrells Inlet, S.C. the grand prize winner of the annual DOLE Cook-Off grilling competition. Sous chef to Phillips, Susan Whetzel of Doughmesstic, shared in the winning victory.
Get the $25,000 winning recipe on Ally's blog.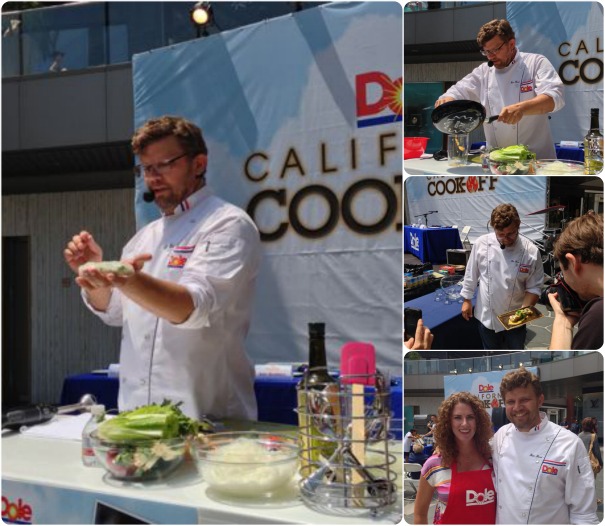 Santa Monica Place was abuzz the morning of the Cook-Off as Chef Ben Ford took to the stage wielding fresh Dole products, commanding not only the fiery hot Weber grill, but the attention of an audience from all over the globe.
Just one of the three dishes Ford demonstrated, Fresh Grilled Shrimp Spring Rolls with Dole Tropical Fruit Chutney, above.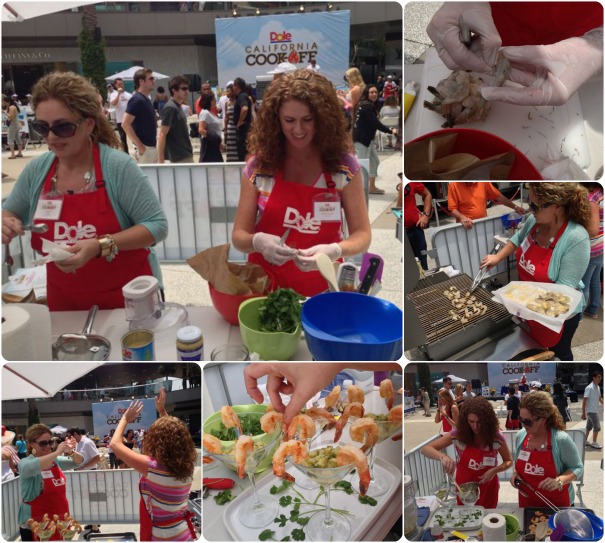 Things heated up when the competition began. I was sous chef to Lorie Roach of Buckatunna, Mississippi and had my hands full with the task of deveining shrimp. Finishing with a few minutes to spare, it felt as though the hungry on-lookers would rush our grilling station vying for a taste of Lorie's spicy-sweet shrimp.
Pictured above, Lorie Roach's Grilled Pineapple Candied Shrimp Cocktails with Pineapple Jalapeno Dipping Sauce, as presented to the judges.
The competition was no less intense for what would become the grand prize winning duo of Ally Phillips and Susan Whetzel (left) and finalist Carmell Childs of Ferron, Utah and sous chef Priscilla Willis of She's Cookin (right).
Pictured above, Carmell Childs' "DOLE"ightful Tropical Berry Sticky Rice with Mango Passion Coulis, as presented to the judges.
Further proof that there's just something magical about about a giant check with your name on it! Michael Contreras, Digital Marketing Manager and spokesperson for Dole (top left), Brad Bartlett, President of Dole Packaged Foods (top center) and Chef Ben Ford (top right) present the contestants with their prizes: $25,000 to an emotional Ally Phillips and $1000 to Lorie Roach and Carmell Childs.
One of the greatest things about being Average Betty is participating in events like the Dole Cook-Off. The opportunity to meet great chefs like Ben Ford, the people behind national brands like Dole, and the men and women, just like me, who have forged their place in the online food scene. If you ever thought it was a lonely existence standing in the kitchen with a remote control talking to a camera, think again.
And just one more thing… baby bumps and aprons are not a winning combination ;)
Special thanks to Dole and Finn Partners for sponsoring my attendance at the 2013 DOLE California Cook-Off.
Dole is a leader in sourcing, processing, distributing and marketing fruit products and healthy snacks throughout the world with a full line of canned, jarred, cup, frozen and dried fruit products. For more information please visit www.dole.com.