Y
iPhone NYC: Balthazar Restaurant
When I snap a quick, flashless iPhone photo at a restaurant, I know the odds of it making it to the blog are very slim. The lighting is off. The textures are flat. I can almost feel the chef and waitstaff cringe with the release of my shutter. It's a bad photo of great food…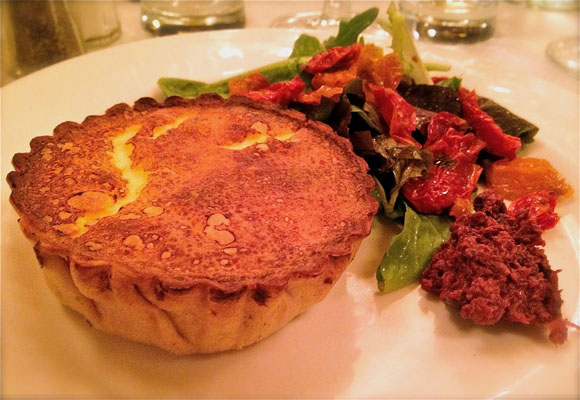 The Warm Goat Cheese and Caramelized Onion Tart from Balthazar Restaurant is different. I have to share this piece of heaven now, despite it's aesthetically challenged appearance in the photo above.

I have been craving, dare I say dreaming, of this elegant, unassuming Hors d'oeuvre since I tasted it last month. I can't wait to make this savory pastry and share it with you in a video!
And since I scored a copy of The Balthazar Cookbook, brace yourself for Le Cordon Betty to get a little French Bistro on you.

I wouldn't trade my red, hard-cover, autographed Balthazar Cookbook for the world. But the internets are a beautiful place. You can find the Goat Cheese Tart Recipe here and here. Consider them the trailer for my video.
What spectacular dish have you had at a restaurant, either recently or in the past, that you are craving? Tell me in the comments…
Balthazar Restaurant is located at 80 Spring Street, NY NY, 10012 between Broadway and Crosby.
Serving traditional bistro fare from breakfast through late-night supper since 1997, Balthazar offers a French menu, extensive wine list, raw seafood bar, and selections from Balthazar Bakery.
*
More iPhone NYC: Eataly