Y
What is your favorite deep fried food? Leave a comment.


It's been a busy month and I've got the corn dogs to prove it! Seriously, between traveling home to Florida, getting an awesome opportunity with YouTube and Kodak to produce a video for their Print and Prosper campaign, and (as part of the video) buying a deep fryer… there hasn't been much time for writing. But I've got a new recipe and a new video starring Corn Dogs!

Nothing says fun like a Corn Dog, and nothing gets a party started like a deep fryer! I've never made Corn Dogs and I've never used a professional deep fryer. Both are fun, but the deep fryer is a little scary. Not because it's dangerous — I mean, it is, but the deep fryer has great safety features. Scary because everything deep fried is so good! The corn dogs were delicious, but so were the zucchini, onions, eggplant, raviolis, potatoes… I finally had to give the deep fryer a timeout.
Thanks to Kodak and YouTube, I deep fried myself silly. Watch Ding Dong! Corn Dog! and get the Corn Dog recipe too!
EAT IT OR PUT IT ON EBAY?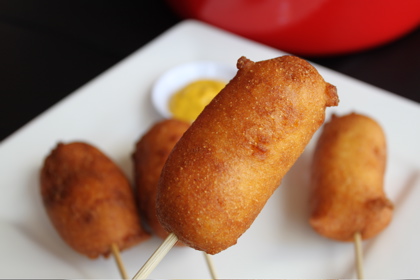 Pssst! Do you see a face on my Corn Dog? Who is it? Leave a comment.
Link to the Corn Dog recipe.
Link to the Ding Dong! Corn Dog! video.
THE TASTY AWARDS ON HULU

You can watch the whole wonderful Tasty Award evening on Hulu or check out this clip above! Team Betty accepts the Tasty for Best Home Chef in a Series. HUGE THANKS to each and every one of you for your support and helping to make Average Betty a winner!