Y

New Media grew up fast! It seems like just yesterday that New Media was an adorable pet video, a fantastical star wars kid, and a curiously freaky breakdancer. Not anymore. New Media is big now: Big companies, big names and big budgets. It's been the subject of a writer's strike, and has penetrated every major genre, including fairy tales.
As our classic bedtime stories are replaced by New Media productions, Betty's not about to sit on the sidelines and watch! No ma'am! Betty loves herself a good fairy tale, and she found the inspirato to write her own:
"One Unicorn Fritter. One Evil Locust. One magical adventure to save the universe!"
Will Betty the Unicorn Fritter prevent the evil locust from inheriting the throne? Will the universe be saved? Are corn fritters a perfect side dish for summer? Watch Betty the Unicorn Fritter to find out for yourself…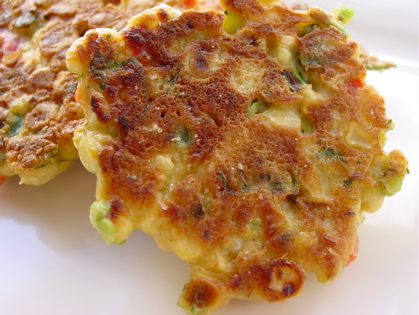 Link to the Savory Corn Fritters recipe.

Click for printer-friendly version!
Link to the Betty the Unicorn Fritter video.
Link to the full Average Betty Archive.
BETTY NEEDS YOU! Would you help a Betty out, yo? You can by taking the Average Betty Audience Survey. Taking this super-short survey helps Betty learn about her people to help attract sponsors! With sponsorship, Betty can stick it to The Man and quit her day job so she can crank out more Average Betty episodes! BIG TIME BETTY LOVE to everyone that has already taken the survey!
SAVE SOME CASH FOR GAS! You can get magical savings on GoDaddy.com domain products by using a Betty coupon code, AND you help a Betty out at the same time! Use the BETTY1 coupon code at checkout to get a .COM domain for only $6.95! That's $3 OFF the regular price of $9.99, yo!
SPECIAL BETTY SHOUTOUT!

Check out this awesome photo of Jordan 13 (left), Grace 9 (middle), Naomi 6 (right) and Dad, George at the top. What a beautiful family! And, oh, what are they doing at the breakfast table in their charming Charlotte, NC home? Ears are plugged. Tasty lookin' waffles on the table. Hmm… could it be deja vous?
George writes:
"The Waffler was such a huge hit with my kids that one morning, my daughters asked me while I was making breakfast 'What's a superdelegate?' As I was trying to explain while slinging eggs and bacon, I looked up… and both girls had their fingers in their ears. Grace takes her fingers out and says, 'First of all, I can't hear you.' Average Betty: corrupting our youth since 2006."
Very sophisticated question Grace and Naomi… BUT an even more clever answer! Thanks for sending the fun story and picture, George! Your beautiful family (and fine looking waffles) have really warmed Betty's heart! And the breakfasts you have together sound awesome! This SPECIAL BETTY SHOUT OUT goes out to Jordan, Grace, Naomi and George! Charlotte, North Carolina in 'da house!
WHAT'S BETTY DIGGIN'?
Charlie The Unicorn! Betty's inspiration for Betty the Unicorn Fritter. FilmCow and Jason Steele are behind the animated tales of Charlie the Unicorn as well as a bunch of other great shorts! Check 'em out at FilmCow or their YouTube channel, SecretAgentBob!
WHAT'S BETTY READING AND/OR WATCHING?
NewTeeVee! When Betty wants the latest scoop in New Media, she heads on over to NewTeeVee. Being part of Giga Omni Media, Inc., or GigaOM, it's no surprise that NewTeeVee's articles are fresh, well-written and engaged by a thriving, influential audience. Liz Gannes, Chris Albrecht, and recent addition to the team, Liz Shannon Miller, do an amazing job of keeping us apprised of the latest news in New Media, and entertaining us in the process. If you're interested in the New Media industry, you have to read NewTeeVee! And be sure to check out NewTeeVee Station, which, as NewTeeVee puts it, let's you know "what's worth watching right now." Hopefully one day an Average Betty video makes the cut…
Thanks for watching!